When is Barry Season 4 Coming Out? Here's Everything You Need to Know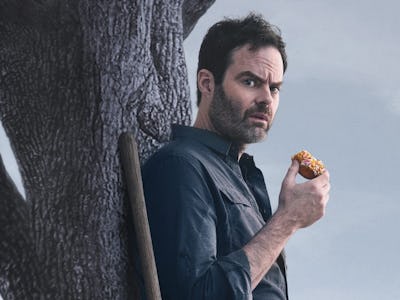 HBO
Barry will return to HBO for its curtain call. Barry Season 4 just got its first teaser trailer, which doubles as a helpful reminder for anyone who forgot about Season 3's cliffhanger ending. But what will happen next to Barry (Bill Hader) and when is the Season 4 release date? Here's everything you need to know.
What is Barry About and What Happened in Season 3
Co-created by Bill Hader and Alec Berg, the wickedly funny series stars Bill Hader as Barry Berkman, a traumatized military veteran turned depressed hitman who reluctantly travels to Los Angeles to execute a hit on an aspiring actor. But when Barry accidentally winds up in an acting class, he finds himself drawn to the stage and Tinseltown's accepting theater community. He wants to transform his life and start over as an actor, but his criminal past won't let him walk away.
When we last saw the budding thespian, he was betrayed by his friend and acting coach, Gene Cousineau (Henry Winkler), who turns him over for being a dangerous hitman, landing "Barry Block" in a cellblock with his former handler, Monroe Fuches (Stephen Root). Meanwhile, unlikely characters in Barry's ensemble cast wind up getting the "Barry Bug," and go on to commit irredeemable acts of crime, turning their own worlds upside down. How will Barry get out of this latest obstacle (and will he even want to)?
When is the Barry Season 4 release date?
Barry Season 4 will be released on April 16, 2023.
How many episodes will there be in Barry Season 4?
The fourth and final season of Barry will run for eight episodes starting on Sunday, April 16. It will conclude on Sunday, May 28.
Hader directs all eight episodes of Season 4. Last month, Hader won a Director's Guild of America Award for directing the Season 3 episode "710N."
In an interview with Variety, Hader noted that he'd always wanted to write and direct Barry since the very beginning of the show, but needed to learn the ropes first. "As the show has progressed, I've gotten much more confident as a director and as a writer," Hader said.
Who stars in the cast of Barry Season 4?
Bill Hader reprises his role as conflicted hitman-turned-actor Barry Berkman.
The rest of the cast includes:
Stephen Root as Barry's ex-handler Monroe Fuches (who Barry will likely be running into in prison).
Sarah Goldberg as Barry's on-again-off-again actress girlfriend Sally, who's blown up her career prospects and personal life by murdering someone for the first time by the end of Season 3.
Anthony Carrigan as Chechen gangster Noho Hank, who also commits murder for the first time in Season 3.
Henry Winkler as Gene Cousineau, an acting coach who betrayed Barry at the end of Season 3 to get justice for his one true love.
It is unclear who else will be joining Barry Season 4's cast, as either recurring or guest stars.
What is the plot of Barry Season 4?
Here's the official logline of Barry Season 4:
"Cousineau (Winkler) is hailed as a hero as Barry's (Hader) arrest has shocking consequences. It's all been leading up to this— the explosive and hilarious final chapter of Barry."
Is there a Barry Season 4 poster?
Yep! Here it is. Behold, Barry behind bars.
Is there a Barry Season 4 trailer?
Yes, HBO released a teaser trailer for Barry Season 4 on March 8. You can check it out below.
Is this really the end of Barry on HBO?
Yup. In a recent interview with Variety, Hader confirmed that the story has ended exactly the way he envisioned it would. "I just wanted to tell this story, and the story's done."
But if HBO decides to create a spinoff series based on Barry — à la AMC's Better Call Saul — well, we won't blame them.
Barry Season 4 debuts on HBO and HBO Max on April 16, 2023.