Superman Movie Leak Reveals the Arrival of a Shocking Anti-Hero Team
James Gunn is reaching deep into the back catalog.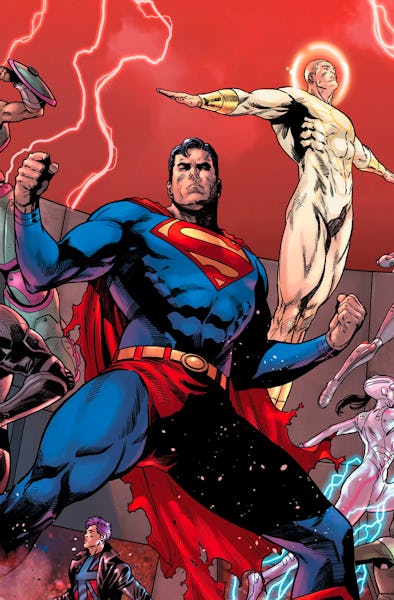 DC Comics
When DC's new creative co-chairs, James Gunn and Peter Safran, first unveiled plans for a new slate of films, it was clear they would take a very different approach to the DC universe's heroes.
"One of our strategies is to take our diamond characters, which is Batman, Superman, Wonder Woman, and we use them to prop up other characters that people don't know," Gunn said. This new strategy will kick off with Superman: Legacy, the first film on the new DC Universe schedule. An all-new Superman will be leading the charge on a new chapter of DC stories titled "Gods and Monsters," and he's apparently bringing a lesser-known group of antiheroes into the fold as well.
Casting for Superman: Legacy is already underway; DC is reportedly circling a handful of leads for the roles of Superman and Lois Lane. While Lex Luthor could be the main antagonist, Legacy will apparently introduce members of the Authority alongside the iconic villain. Per The Hollywood Reporter, DC plans on casting those roles after locking in the two main leads, which gives us plenty of time to speculate on the role the Authority could have.
First things first: who are the Authority? The supergroup was introduced in Wildstorm Comics, an imprint founded by current DC Comics chief Jim Lee. Even before their eventual shuffle to DC, the Authority were posited as the anti-Justice League. Although they work in humanity's best interest, they're not above breaking a few eggs to save the world. Destruction, violence, and death are all non-issues for its members. They answer to no world power, only their own (you guessed it) authority, making them an unwieldy and powerful force in the comic book world.
The Authority lived on the pages of Wildstorm Comics from 1999 until 2011, when the events of Flashpoint brought the team into the main DC continuity. Since then, they've gone up against the Justice League and even worked with Superman in a miniseries by Grant Morrison and Mikel Janín. Though they're not well-known, the Authority left an indelible mark on the industry. Lee's gritty approach to superheroics has influenced how heroes are depicted on the big screen, from Marvel's Avengers to Gunn's own efforts for DC, The Suicide Squad and Peacemaker.
Despite their influence, the Authority has never had time in the sun, perhaps because so many of their members feel like direct rip-offs of existing DC heroes. But that's set to change with Gunn at the helm of the new DC Universe. The supergroup will eventually star in their own film, a "passion project" for Gunn. Superman: Legacy will likely be a primer for that solo film, introducing key members of the Authority and potentially setting up an adaptation of the Superman and The Authority miniseries in the future.
We'll have to wait to see what Gunn has planned, but it'll be interesting to see how this ruthless group fits into Legacy, especially given its title hero's unshakeable morality.
Superman: Legacy opens in theaters on July 11, 2025.