Netflix's Most Important Sci-Fi Show Has Become an Unlikely Battleground
The timing of a big casting announcement is... strange.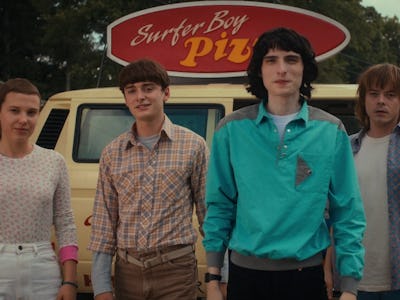 Netflix
Stranger Things may be set in the '80s, but in our world, it's spanned two decades. Since its premiere in 2016, the series has delivered Stephen-King-flavored spooks and thrills with a rocking soundtrack, but a once steady stream has slowed to a trickle. 25 episodes were released between 2016 and 2019; only nine have been made since.
Now, the series is gearing up to deliver its fifth and final season. But it seems fraught with issues, and a new addition to the cast only highlights them.
Despite countless memes about how old the once-tween actors are getting, production of Stranger Things Season 5 is on indefinite hold. The Duffer brothers previously tweeted that "writing doesn't start after filming begins," and thus the series won't be filming while writers are on strike.
That hasn't stopped Netflix from using its Tudum fan event to announce that Terminator star Linda Hamilton will appear in Season 5. That's a bit of a twist considering the Duffers previously told IndieWire that Season 5 of Stranger Things wouldn't default to adding new characters, like how Eddie Munson was added in Season 4. "We're doing our best to resist [new characters] for Season 5," Matt Duffer said. "We're trying not to do that so we can focus on the OG characters, I guess."
Either the Duffers failed to resist temptation, or Hamilton's role isn't as significant as this announcement makes it seem. It's likely her role will be more Cary Elwes as Larry Kline than Joseph Quinn as Eddie Munson.
The timing of the announcement is as notable as the announcement itself. Netflix has been in desperate need of good news; the Hamilton reveal may just be counter-programming to all the stories about how awful the platform is to work with as a writer. Netflix could even be trying to coerce the Duffer brothers into getting back to work; don't they want their fans to see the Linda Hamilton work with the Stranger Things crew?
Regardless, the inclusion of a sci-fi icon is an intriguing announcement that suggests Stranger Things Season 5 is swinging for the fences. Let's hope we find out more soon... but only after Hollywood's writers get paid what they're worth.
Stranger Things Seasons 1-4 are streaming on Netflix.