She-Hulk release date, cast, plot, and trailer for Marvel's Disney Plus show
The Marvel universe's greatest lawyer finally gets her own TV series.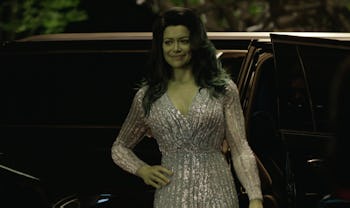 She-Hulk will be smashing her way onto our TV screens soon. At 2019's D23 convention, Marvel announced a live-action She-Hulk series that was ordered to Disney+, and three years later, it's finally going to debut on the streaming platform.
Director and producer Kat Coiro (Dead to Me, Life Happens) joins showrunner (and former Rick and Morty scribe) Jessica Gao for She-Hulk: Attorney at Law. Now that Marvel has announced the show's release date and shared a new trailer, here's everything we know about the upcoming She-Hulk series, including the cast and some backstory about the character.
Who is She-Hulk in the Marvel Universe?
First introduced in 1980's Savage She-Hulk #1, Jennifer Walters is a criminal defense lawyer and Bruce Banner's cousin. Marvel launched the character following the success of The Incredible Hulk TV show and sought to replicate that success with a female version. After being shot by a crime boss, Jennifer receives a blood transfusion from the Hulk himself and voila! She-Hulk is born.
Unlike the Hulk, Jennifer can control her transformations into She-Hulk and retains dominance over her personality, cognitive skills, and emotions. Basically, she doesn't hulk out only when she's mad. That's partly due to the lower dose of gamma radiation she received, but also thanks to a blood cure that the vampire Morbius cooked up after she defended him in his trial. However, she later opts to remain in the guise of She-Hulk and manages to balance being a superhero without giving up her job or personal life. As a superhero, she's fought alongside the Avengers, Fantastic Four, and the Defenders.
When is the She-Hulk release date?
She-Hulk: Attorney at Law will arrive August 17, 2022 on Disney+. The series has been in development for years, but it wasn't until 2021 when Marvel released the first teaser for the series that fans knew the show would be coming out in the next year. Months later in May 2022, the studio officially announced the release date exactly three months in advance. Let the countdown begin!
How many episodes will She-Hulk be?
She-Hulk: Attorney at Law will have nine episodes in its first season. Kat Coiro is confirmed to direct Episodes 1, 2, 3, 4, 8, and 9, and Anu Valia will helm Episodes 5, 6, and 7.
The comedy series already breaking ground in a number of ways, but the fact that it's three episodes longer than the latest Marvel shows, Moon Knight and Hawkeye, means this story might be bigger in scope (and laughs) than expected.
Who is in the cast of She-Hulk?
Orphan Black's Tatiana Maslany has been cast in the role of She-Hulk/Jennifer Walters. Mark Ruffalo will reprise his role as Bruce Banner/The Hulk, seemingly still in his "Professor Hulk" form from Avengers: Endgame. A familiar foe of Banner's will also return in the form of Emil Blonsky/Abomination. The character had made a cameo in Shang-Chi, but will be returning in a main role in the MCU since he faced off against Edward Norton as Banner. Of course, new Marvel mainstay Benedict Wong will appear as Wong in the series.
Jameela Jamil will be bringing her Good Place chops to the show. She plays Titania, a supervillain of She-Hulk's with incredible strength. Ginger Gonzaga plays Jennifer's best friend, while Tony Award winner Renee Elise Goldsberry has been cast in the role of "Amelia."
What is the plot of She-Hulk?
Marvel Studios head honcho Kevin Feige has said She-Hulk would be a "half-hour legal comedy" that would also take on the characteristics of John Byrne's take on the character in the comics. You can read the official show synopsis below:
"She-Hulk: Attorney at Law" follows Jennifer Walters as she navigates the complicated life of a single, 30-something attorney who also happens to be a green 6-foot-7-inch superpowered hulk.
Is there a trailer for She-Hulk?
Yes! She-Hulk: Attorney at Law unveiled its first trailer in May 2022 during The Walt Disney Company's Upfront Presentation. You can watch it in the embed below.
Marvel Studios also released its first footage of She-Hulk during its 2021 Disney Plus Day. It gave fans a first look at Jennifer Walters both in and out of her She-Hulk form, as well as her cousin performing some tests on her.
She-Hulk premieres in 2022 on Disney+.
We may receive a portion of sales from products purchased from this article, which was written by our Editorial team.
This article was originally published on