She-Hulk Episode 1 solves Shang-Chi's Bruce Banner mystery
She-Hulk has already cleared up one of the MCU's strangest Phase 4 mysteries.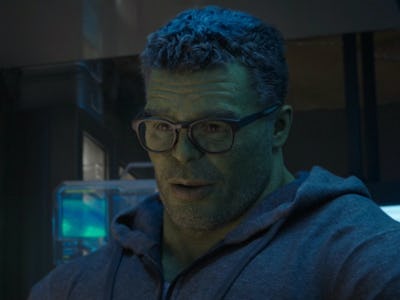 The first episode of She-Hulk: Attorney at Law clears up a lot of mysteries that have been bothering Marvel Cinematic Universe fans for years. Not only is the episode bookended by its lighthearted conversations about Captain America's virginity, but it also offers some insight into what characters like Bruce Banner (Mark Ruffalo) and Tony Stark (Robert Downey Jr.) did during The Blip.
She-Hulk Episode 1 also explains how Bruce Banner and The Hulk managed to merge together to become the being known, even by Bruce, as "Smart Hulk." In case that wasn't exciting enough, the series' premiere installment also clears up a Phase 4 mystery that fans have been speculating about ever since Shang-Chi and the Legend of the Ten Rings hit theaters last year...
A Broken Arm — In the opening minutes of She-Hulk: Attorney at Law, viewers are taken back in time to see the moment when Mark Ruffalo's Bruce and his cousin, Jennifer Walters (Tatiana Maslany), get into the car accident that results in the latter receiving Hulk-like powers. However, the flashback in question doesn't begin with Bruce and Jennifer's accident.
Instead, the scene opens with Bruce discussing why he chose to return to his human form after the events of Avengers: Endgame. "It worked. I mean, my arm started to heal," Bruce says. "It's all because I made this little device which keeps me in human form." During the latter line, Bruce, notably, holds up his arm to reveal a complex device attached to the skin of his forearm.
Together, the two lines of dialogue finally explain why Ruffalo's Bruce shows up in his human form during the mid-credits scene of Shang-Chi and the Legend of the Ten Rings.
Bruce's Transformation — In Avengers: Endgame, Bruce Banner proudly tells his friends that, after years of fighting for dominance, he and The Hulk have finally found peace with each other.
It's that specific moment in Endgame that created so much confusion when Bruce showed up in his human form again at the end of Shang-Chi. After all, if Bruce and The Hulk had finally come to good terms with each other, then why would he ever need to return to his human form?
Well, thanks to his first few lines in She-Hulk Episode 1, we finally know the answer to that question: According to Bruce, it was only by returning to his human form that his arm was able to start recovering from his use of the Infinity Stones in Avengers: Endgame.
Apparently, that's why he not only temporarily chose to abandon his Smart Hulk form but also to create a device that could prevent him from Hulking out.
The Inverse Analysis — It's a testament to how skilled Marvel is at connecting its various TV shows and films together that She-Hulk Episode 1 is able to so succinctly answer one of the biggest questions that MCU fans have been asking over the past year. The fact that the She-Hulk premiere is able to do that while also shedding light on Bruce's journey during The Blip is just more proof of how much the series' first installment manages to pack into its relatively short runtime.
Of course, Bruce's admission does raise one interesting question about his post-Endgame state. In specific, one has to wonder whether or not The Hulk was happy with Bruce's creation of a device that prevents them from returning to their Smart Hulk form. If he wasn't, it seems safe to assume that their relationship may no longer be as strong as it was during Avengers: Endgame.
New episodes of She-Hulk: Attorney at Law premiere weekly on Disney+.