Netflix's Scott Pilgrim Anime Could Expose the Movie's Biggest Flaw
Scott Pilgrim Takes Off isn't really a remake — and that's a great thing.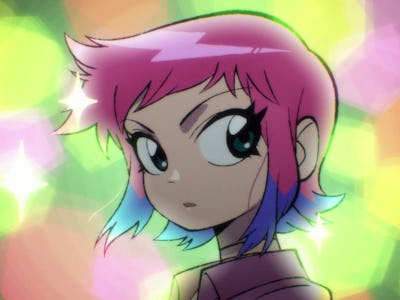 Netflix
Scott Pilgrim's got some unfinished business, and after a decade-long hiatus, he's bringing his fight to Netflix.
The streamer is adapting Bryan Lee O'Malley's endlessly-quotable Scott Pilgrim graphic novels into an eight-part anime series, and the cast of Edgar Wright's live-action adaptation, Scott Pilgrim vs. The World, is back in action too. Michael Cera returns as Scott, the slacker fighting to win the girl of his dreams. He's joined by Mary Elizabeth Winstead, Kieran Kulkin, Brie Larson, and Chris Evans, among others.
For fans of the Scott Pilgrim universe, Scott Pilgrim Takes Off could be an intriguing new take on the story, especially with O'Malley and Wright working together behind the scenes. The series comes from Science SARU, the Japanese studio that brought us Inu-Oh and two short films for Star Wars: Visions. So far, it's shaping up to be a gorgeous tribute to O'Malley's original art, while also pushing the boundaries of what he accomplished on the page. Check out the official teaser below.
While fans have been clamoring for a live-action sequel to Scott Pilgrim vs. The World for years, it never really came to fruition. "I knew that a live action sequel was unlikely," Wright recently told Tudum, "but I would usually defer by suggesting that perhaps an anime adaptation was an interesting way to go." Eventually, Netflix reached out to make that anime a reality, and O'Malley came aboard with "an idea that was way more adventurous than just a straight adaptation of the original books."
There's a sense that Scott Pilgrim Takes Off will be able to explore much more than Wright's 2010 film could. While the movie did a great job of adapting O'Malley's novels, some elements were inevitably cut or changed. As a result, several of the film's female characters — like Knives Chau (Ellen Wong), Roxie Richter (Mae Whitman), and Envy Adams (Brie Larson) — came off as somewhat two-dimensional. Scott Pilgrim Takes Off has the chance to remedy that, and allow the original cast to expand on their roles.
That likely won't be the only thing changing in the new series. Both Wright and O'Malley have teased a few changes for Scott Pilgrim Takes Off, so it's unlikely that the anime will be a 1:1 adaptation. "There might be a few surprises along the way," O'Malley told Tudum in March. Let's hope they expand on the characters, as well as the world.
Scott Pilgrim Takes Off hits Netflix on November 17.