Is the Marvel Machine Actually Holding Actors Back?
Robert Downey Jr.'s latest movie pokes a hole in one of the MCU's boldest claims.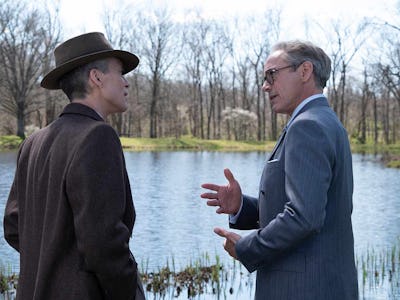 Universal
It's hard to watch Robert Downey Jr. without thinking about Tony Stark, the role that reinvigorated his career and launched Marvel's Cinematic Universe. Downey's performance spanned over 10 years and 9 films. He became the undisputed face of the world's biggest franchise and rewrote what it meant to be a movie star in a franchise-obsessed world.
But Robert Downey Jr. existed before the MCU, turning in incredible performances in movies like Chaplin and Zodiac. So while Marvel may have saved his career, anyone who tries to argue that Iron Man represents his best work probably needs to watch more movies.
Downey is also fantastic as Lewis Strauss, the stuffed shirt antagonist in Christopher Nolan's Oppenheimer. The unconventional biopic comes at the perfect time for Downey. It's only been a few years since he said goodbye to the MCU, and his post-Marvel track record hasn't been all that great. But his tour-de-force man tears in Oppenheimer might have just reminded everyone that he can, in fact, act.
(For the record, Downey has never actually turned in a bad performance. The projects he's picked in the shadow of Endgame were, to put it gently, duds, but he's a consistent talent wherever he goes.)
In the past decade and change, Marvel has gone to great lengths to recruit some of the best actors in the game. Heavyweight thespians, indie darlings, and Oscar winners alike have followed Downey into the fray, and plenty have delivered worthy performances alongside or against him. But sometimes, the material leaves a bit to be desired.
It also doesn't help that a handful of MCU stalwarts have since spoken about their tenure as superheroes, and it hasn't all been glowing praise. According to Anthony Hopkins, acting in the MCU is not acting at all. His sentiments have since been echoed by Idris Elba, Elizabeth Olsen, and Chris Hemsworth — though not in so many words.
Even Downey understands the difference between a superhero flick and a more conventional Hollywood project. The actor was pretty candid (gracious, but still candid) about his Marvel tenure with The New York Times. After spending a decade in motion-capture suits and acting against green screens, "you start to wonder if a muscle you have hasn't atrophied," he said
Downey's own career can clearly be defined by his time before and after Marvel, but a lot of people forget that he was Oscar-nominated long before fans begged the Academy to recognize his work in Endgame. Downey is also the archetypal success story for Marvel, one of very few. He got in at the perfect time: when the MCU was still figuring itself out. There were no rules to break, and no limits to what could be done on-screen (barring a PG-13 rating).
Downey also got out at the opportune moment, as the arc that Marvel spent a decade building came to a satisfying end. You could argue no one did it better than Downey. (Chris Evans had a similar arc, but he's not starring in Christopher Nolan movies.)
Four years after Avengers: Endgame, it's a very different story. Marvel's momentum seems to be slowing down, while at the same time, new actors and directors rarely get the creative freedom they once had. Even a movie like Eternals, featuring an all-star cast (including Oscar-winner Angelina Jolie) and Oscar-winning director Chloé Zhao, couldn't escape the MCU's crushing gravity. Will there ever be another career arc quite like Robert Downey Jr.'s?
Perhaps the real question we should be asking isn't which actor Marvel will lift up next, but whether actors need the MCU at all. Because if there's one thing Downey's career proves, it's that green screens and skin-tight mocap suits rarely get you an actor's best work — even if sometimes, it's still pretty good.
Oppenheimer is in theaters now.