How Apple TV+'s Most Innovative Show Predicted a Viral TikTok Trend
The minds behind the genre-hopping series want it made clear they paid homage to a certain director before Gen Z.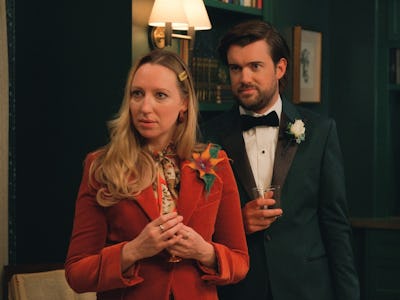 Apple TV+
The Afterparty is a grand experiment into the concept of genre, and at its helm are Phil Lord and Christopher Miller, who together have hopped from genre to genre themselves. The writer-director duo have dipped their toes in everything from comedy in 21 Jump Street, to family films in Cloudy with a Chance of Meatballs, to innovative animation in Into the Spider-Verse.
But The Afterparty is pushing the envelope in a different way, painting a complex murder mystery with every episode — not only with a different narrative genre, but with a new visual style. Season 1 featured an animated episode and even a musical extravaganza, but in Season 2, the action is a lot more cinematic. One episode, in particular, transforms into a love letter to Wes Anderson. But before you ask — no, they're not just following the TikTok trend.
"We made this over a year ago before the TikTok trend of people doing cheap imitations of his stuff happened," Miller said. "We didn't want it to feel like a parody or a spoof. We wanted to feel like something that was told in that style of storytelling, but it was its own unique story."
But much like the wave of TikTok videos documenting everyday life in the style of Wes Anderson, underscored by the French Dispatch score, Miller doesn't believe the Asteroid City director had any knowledge of The Afterparty's tribute to him. "We're huge fans of his, but I don't think he knows," he told Inverse.
Lord, Miller, and fellow executive producer Anthony King spoke to Inverse about The Afterparty, Star Wars, and the ongoing writers' strike.
This interview has been edited for brevity and/or clarity.
How did you decide which genres to tackle this season? Were any of them rejects from Season 1?
Christopher Miller: It all comes from character. First, we figure out who the murderer is and why the murder happened, then how to cover it up, and we're building a character set around that. And as we're trying to think about those characters and their relationships and their secrets, we're thinking, how would they tell their story? What genre would they be in? And then as we're figuring out what that genre is, that helps inform how we can find the details of that character.
For example, if we say, "Grace's story would work really well as a Jane Austen period piece, well then let's have her be interested in antiques and things like that, which then leads to a connection with Hannah, who also likes quirky antique things." It all builds on itself in that way, a chicken and egg situation where the genre comes out of character, but then the genre ends up informing the character as well.
Of these episodes, which was the most difficult to shoot?
Miller: The hardest was the Ulysses episode, the epic romance, Oscar-bait, globe-spanning journey. The ambition of that one was massive, and thankfully we had a great partner in Peter Atencio who directed it and really did an amazing job with the scope, scale, and cinematic language of it. But that one, from just an ambition standpoint, was massive.
Were there any genre ideas or character ideas that ended up on the cutting room floor this time?
Miller: We've tried a bunch of things in a bunch of places, and there are certain times when they're like, "Ooh, we've never done a Western or a sci-fi thing or something like that," but it's something that you can't just sort of force from the outside.
Anthony King: It's hard to have someone's point of view of themselves be that they met an alien. Not to say we won't figure it out...
Phil Lord: Hold my beer.
King: So far we haven't cracked it.
You mentioned sci-fi so I would be remiss if I did not ask, Chris and Phil, now that Star Wars is entering a new era, would you ever return to the franchise after Solo?
Lord: Not sure we've been invited.
Miller: We'll never say never to anything, but we have our hands full with lots of other stories in the near future, I'll say that.
Are there ideas for a possible The Afterparty Season 3?
Miller: Yes, there are. There are lots of ideas, but we're currently on a writer's strike right now.
Lord: They're locked inside our brains.
Miller: Until the AMPTP comes to the table and gives the writers a fair deal, they will be unable to be enjoyed by anyone but our own brains.
What is your opinion on the strike? What else do you have to say about that?
King: It's really important that the AMPTP come to the table and hear the concerns that the writers have. They're not just about where the writers are now in pay and what's been happening in the industry, but how there's been a fundamental shift that needs to be addressed and is for the benefit of everyone, for the studios and for the writers.
Lord: What I find so remarkable is how the things that we, as the community of writers, are insisting on will be good for the television producers. Not only will we correct the backsliding of writer pay, which is down almost 25%, but we'll make that a sustainable job for the everyday writer, and also sustain the quality of the programs that are produced.
The AMPTP wants to spend less on the writing and the quality of the thing that they're asking us to spend more on as consumers. And I'm sure nobody wants to rip anyone off.
Assuming the writer's strike goes well, in a dream world, how many seasons of The Afterparty do you see yourself doing?
Miller: I mean, there's a surprising number of genres that have been unexplored, believe it or not.
King: And there are billions of people on the planet who could be murdered.
Miller: That's right. And many, many unique ways of being murdered that are unexpected and surprising. So it can go on and we have lots of ideas. It can go on longer than anyone would expect.
The Afterparty Season 2 premieres July 12th on Apple TV+.