The Afterparty Season 2 Recycles the Same Format, With More Genres
Apple TV's murder mystery show does more genre-hopping, but is still more of the same.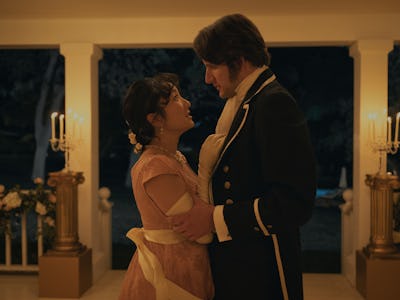 Apple TV+
The Afterparty is a show unlike any other. It's not quite a comedy, but not quite a drama. It's almost a murder mystery and almost an anthology. It's half episodic and half serialized. After a successful first season, which boasted both an animated episode and a musical episode, Season 2 attempts to up the ante but falls into a long-standing trap.
Season 1 followed the events of a high school reunion's afterparty that ended in a murder, with each episode taking place from a different character's perspective and getting depicted in a different genre. Season 2 takes a similar approach but with a different afterparty: one after a wedding.
Zoë (Zoë Chao) and Aniq (Sam Richardson) attend Zoë's sister Grace's wedding to the mysterious Edgar (Zach Woods) but are surprised when Grace wakes up the next morning to find Edgar dead. With the help of their old friend, Detective Danner (Tiffany Haddish), they interrogate an eclectic set of characters.
While Season 1 conquered some of the more obvious genres, Season 2 uses more secondary options to really stretch its stylistic muscles. The highlight by far is a twee, pitch-perfect Wes Anderson pastiche led by Edgar's adopted sister Hannah. Despite the wave of Wes Anderson parodies and tributes from both AI and TikTok users, the cinematic moments in this episode feel plucked from Moonrise Kingdom (the sweet romance and chemistry between the all-star cast doesn't hurt.)
It seems like while Season 1 is focused on genres, Season 2 is more about director stylization — another later episode is a beautifully technicolor Alfred Hitchcock psychological thriller. There are still some more traditional styles, like a period drama or a heist story, but this is definitely the movie nerd's season.
Unfortunately, delivering more of the same gimmick from Season 1 does cut both ways. The Afterparty suffers greatly from the anthology curse — because each episode is so wildly different, the quality differs as well. For every lovingly accurate sendup, there are also episodes that adopt more of a gimmick than a genre, like the episode based around Zoë and Grace's father, Feng (Ken Jeong). The story is obviously meant to be told through a phone, but that's a bit too far a narrative stretch for a murder mystery, so it becomes an annoying conceit.
Thankfully, the good episodes outweigh the so-so ones. It's the test of a good anthology show. For every "Shut Up and Dance" episode of Black Mirror, there's a "Joan is Awful" and a "Nosedive." The Afterparty has now outgrown its novelty, and the inconsistency is starting to show — but fluctuating between okay and great is way better than the alternative.
But beyond the genre-hopping format, The Afterparty is a murder mystery, and this one especially has cemented itself in the 2020s, complete with a crypto-obsessed, "biohacking" victim, wedding florals with psychotropic plants, dark secrets, and vintage typewriters. It's hard to keep a case interesting across 10 episodes, but the pacing seems to be perfected from Season 1. We even take a full diversion to investigate Detective Danner's past, and it never feels out of step.
While The Afterparty Season 2 isn't perfect, it's the kind of show you can't stay mad at, because it has 10 different chances to win you over. Like most weddings, there are some boring parts, but by the end of the night, you don't really care — seeing people enjoy themselves like these actors are undeniably doing, is worth it.
The Afterparty premieres July 12 on Apple TV+.