Outlander Season 6 release date, trailer, cast of Starz time-travel drama
The Droughtlander is nearly over! Here's everything to know.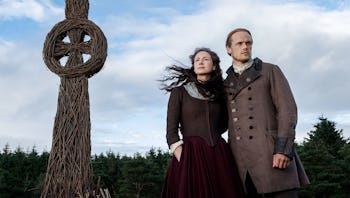 Filled with turmoil, battles, and revenge, Outlander Season 5 came to a harrowing end that left Claire and the rest of the Fraser clan struggling to cope with the emotional aftermath. With the Revolutionary War looming and Claire still on the mend, there's still plenty more drama in store for the Frasers. Outlander Season 5 pretty closely followed Diana Gabaldon's The Fiery Cross, the fifth book in the time-traveling romance drama.
Starz renewed Outlander for Season 6 back in the spring of 2018, and fans have been waiting for what seems like an eternity for new episodes. With that in mind, here's everything we know about Season 6 of Outlander:
When is the Outlander Season 6 release date?
At long last, a premiere date has been announced! Diana Gabaldon, who penned the book series of the same name, said Outlander Season 6 would be premiering on March 6, 2022. This will mark nearly two full years since Season 5 ended in May 2020.
What is the plot of Season 6?
Historically, every season of Outlander has followed Diana Gabaldon's books. Season 1 was based on the first novel, and so on. Season 6 of the Starz series will likely follow in the same vein.
Spoilers ahead for Season 5 of Outlander.
A Breath of Snow and Ashes has a lot going on. Season 6 could see Brianna and Roger time-traveling back to the 20th century – for good this time. This time around, however, their reasoning might be more urgent. The couple has a daughter who requires 20th-century medicine to survive in the books, but it's unclear if this will be adapted to the show.
The upcoming episodes will likely deal with the aftermath of Claire's assault at the end of Season 5. She and Jamie will need to reckon with the violence within their sphere and the impending Revolutionary War. Speaking with Elle, Caitriona Balfe said that this storyline will continue into Season 6.
"For Claire, this is going to be an ongoing journey of recovery. She will probably try to plow on and get back to normality, but I don't think she's fully aware of just how difficult, subconsciously and psychologically, that's going to be for her. Obviously, we have the war coming. There's a lot happening on the horizon. I read two scripts already, and once we get back to filming, I think it's going to be a strong season again."
Lauren Lyle has also said Marsali and Fergus will have their separate plot in Season 6. At long last! Here's what she told TVLine after the Season 5 finale aired:
"There's stuff I can't really talk about. I do know some stuff is going to happen with them next season that's very much them together, so that will happen, but it'll be a totally different situation to what you've seen them in before."
Lyle might be talking about the plot that involves her and Fergus' fourth child, who is born with dwarfism in the sixth book.
There's also a loose thread to address: Season 4 teased Claire and Jamie's deaths following a house fire. New episodes in Season 6 may finally touch on this unresolved storyline.
Who is in the cast of Outlander Season 6?
Expect Season 6 to see the return of all the core actors, including Caitriona Balfe, Sam Heughan, Sophie Skelton, Richard Rankin, César Domboy, Lauren Lyle, and John Bell. Duncan Lacroix's Murtagh Fitzgibbons was killed in battle, so there's no way he'll return other than flashbacks.
But a new batch of not-so-friendly faces will arrive for Season 6 in the form of Tom Christie (Mark Lewis Jones) and his two children, Allan (Alexander Vlahos) and Malva (Jessica Reynolds). "They are not your typical villains," Balfe teases. "There are so many twists in the tale." Though Tom is an old acquaintance of Jamie's, it seems that they won't be on the same side of things come Season 6.
Is a trailer out yet for Outlander Season 6?
Watch this space! With a premiere date announced, it may not be long before we get a trailer for Season 6.
Is Outlander renewed for Season 7?
Yes! Despite Season 6 having not been released, in March 2021, Starz announced that Outlander would already be coming back for a seventh season. The 16-episode Season 7 (the longest since Season 1) will be based on Gabaldon's Echo in the Bone.
Where can I watch Outlander in the meantime?
Seasons 1 through Season 4 are available to stream on Netflix. Season 5 is currently only available to watch on Starz — which is available through traditional cable packages or as an add-on via Hulu and Amazon Prime.
Outlander Season 5 is available to watch on Starz.
This article was originally published on