Where and how to watch the 2023 Oscar nominees
Get your popcorn ready for some of the best films to land on the big and small screen in 2022.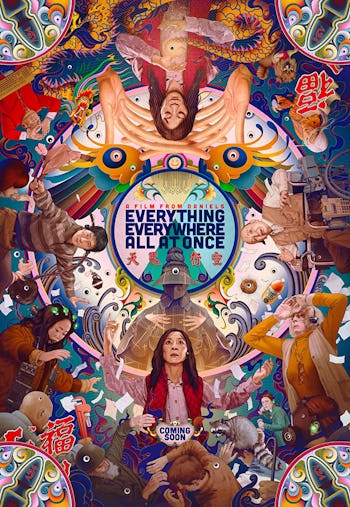 RRR may have been, tragically, snubbed by the Oscars due to some flaws unique to the Best International Feature Film category's voting process, but some other top titles of 2022 will get their fair due at the 95th Academy Awards— several of which Inverse lauded as the best of the year.
Puppet boys made of pine will duke it out with swashbuckling Golden British shorthairs; pro-war propaganda will clash with anti-war wake-up calls; rich people deserted on an island will be at odds with other rich people deserted on an island. It's all happening at the Oscars this coming March. But are you all caught up with the Oscar nominees? Never fear: here's how to watch all the major Oscar contenders right now.
Best Picture
All Quiet on the Western Front
Producer: Malte Grunert
The most epic anti-war 1929 novel of the same name by Erich Maria Remarque has been adapted for the big screen many times— but none have perhaps captured the brutality and senselessness of the first World War quite like this iteration from director Edward Berger. It follows an idealistic young German soldier who soon realizes that in war there are no heroes: only survivors.
Also nominated for: Best International Feature and seven other categories.
How to watch: Netflix
Producers: James Cameron, Jon Landau
The Sullys are back, 13 years after we last left them on Pandora, awestruck by their gorgeous, resource-rich planet all thanks to James Cameron's visionary usage of 3D camera techniques. Now audiences got to see the Sullys, as well as a slew of beautiful glowing alien creatures, underwater and on the sandy shore, attempting to adapt to the ways of a new tribe while on the run from a familiar threat.
Also nominated for: Four other categories
How to watch: In theaters
Producers: Graham Broadbent, Pete Czernin, and Martin McDonagh
Best friend breakups are hard. Best friend breakups are even harder at the tail end of the Irish Civil War, living in monotony on a teeny isle with maybe 50 other people, where there's no escape from each other or the consequences from the fallout. Colin Farrell and Brendan Gleeson reunite again after working together on Martin McDonagh's In Bruges (2008), where they also played a bit of an odd couple. But the dissolution of their friendship in Banshees of Inisherin hits even harder.
Also nominated for: Best Directing, Best Original Screenplay, and six other categories.
How to watch: HBO Max
Elvis
Producers: Baz Luhrmann, Catherine Martin, Gail Berman, Patrick McCormick and Schuyler Weiss
Austin Butler hasn't been able to shake off his accent for Elvis this entire awards season, and honestly, who can blame him? Audiences were all shook up with the actor's transformation into the rock and roll superstar in the biopic, told from the perspective of his manager, Colonel Tom Parker (Tom Hanks).
Also nominated for: Seven other categories
How to watch: HBO Max
Everything Everywhere All at Once
Producers: Daniel Kwan, Daniel Scheinert, and Jonathan Wang
After being monopolized by the Marvel Cinematic Universe, the Arrowverse, and the Rick and Mortyverse, the multiverse has finally gotten the artistic indie treatment. Opting to do away with superheroes and drunken mad scientist granddads, A24's multiverse narrative is zoomed-in on a Chinese-American immigrant family. Blending in a slew of hot dog hand hijinks, googly-eyed rocks, martial arts sequences, heart-to-hearts, surreal comedy, and magical realism, Everything Everywhere All at Once is designed to have at least one thing for everyone to enjoy.
Also nominated for: Best Directing, Best Original Screenplay
How to watch: Showtime
The Fabelmans
Producers: Kristie Macosko Krieger, Steven Spielberg and Tony Kushner, Producers
Twenty years ago, Steven Spielberg was scared of dropping the screenplay for The Fabelmans, the director's semi-autobiographical coming-of-age story, because of how it would hurt his parents. Shortly after their respective deaths, Steven shared the story of how he became the master filmmaker he is today with the rest of the world. Much of the heartache and the interpersonal strife Spielberg — who is "Sammy Fabelman" (Gabriel LaBelle) in the movie — had to endure at a broken home and at an anti-Semitic high school molded the narratives that would become his biggest smash hits.
Also nominated for: Best Directing, Best Original Screenplay, and four other categories.
How to watch: Rent on Amazon Prime Video or Apple TV+
Tár
Producers: Todd Field, Alexandra Milchan and Scott Lambert
Is American pianist, ethnomusicologist, composer, and the first female chief conductor of the Berlin Philharmonic, Lydia Tár, a real person? No, but that didn't stop viewers of Tár rushing out of theaters and Googling whether or not the film, starring Cate Blanchett, was based on a true story. That's how relevant Lydia's "cancel culture" ordeal feels as it plays out on-screen, along with all of the psychologically-twisted tragicomic moments that occur in the wake of a fateful guest lecture at Julliard.
Also nominated for: Best Directing, Best Original Screenplay, and three other categories.
How to watch: Peacock
Producers: Tom Cruise, Christopher McQuarrie, David Ellison, and Jerry Bruckheimer
Top Gun taught us to feel the need for speed, but Top Gun: Maverick taught us the need to pass down the story of the Navy's top aviators to a new generation — except when Tom Cruise's Pete "Maverick" Mitchell is involved. An introspective look at legacy and a barn-burning blockbuster on top of it, Top Gun: Maverick is the rare legasequel that actually works.
Also nominated for: Five other categories
How to watch: Paramount+
Triangle of Sadness
Producers: Erik Hemmendorff and Philippe Bober
This biting black satirical comedy follows celebrity model and influencer couple, Carl (Harris Dickinson) and Yaya (Charlbi Dean), who resent each other and their individual wealth. Nonetheless, they can't pass up an invitation on a luxury cruise for their fellow rich and famous, commandeered by an unhinged boat captain (Woody Harrelson). What first appeared like an instagrammable getaway ends catastrophically, leaving the survivors stranded on a desert island and fighting for survival. (Plus an epic, emetophobia-inducing vomit scene that lasts longer than a Cannes standing ovation.)
Also nominated for: Best Directing, Best Original Screenplay
How to watch: Rent on Amazon Prime Video or Apple TV+
Women Talking
Producers: Dede Gardner, Jeremy Kleiner, and Frances McDormand
"Do nothing. Stay and fight. Or leave. In 2010, the women of an isolated religious community grapple with reconciling a brutal reality with their faith." Sarah Polley takes her clear-eyed lens to "act of female imagination," after the women of a Mennonite debate what to do in the wake of their brutal sexual assaults at the hands of the men in their community. The women talk, and it's riveting the entire time.
Also nominated for: Best Adapted Screenplay
How to watch: In theaters
Best Adapted Screenplay
Glass Onion: A Knives Out Mystery
Writer: Rian Johnson
Daniel Craig reprises his role as master clue-solver (and master of wearing pastels), Benoit Blanc, a spoof of Agatha Christie's renowned Belgian private detective Hercule Poirot, following his grand success in Knives Out (2019). This time, Craig is stuck on an eccentric multimillionaire's island, along with the worst people you could ever meet (and the best ensemble cast you could imagine).
How to watch: Netflix
Living
Writer: Kazuo Ishiguro
After ripping hearts to shreds with the book Never Let Me Go, Ishiguro has returned with a screenplay based on the book Ikiru by Akira Kurosawa with another surefire way to garner tears in theaters. Living follows a veteran civil servant, Mr. Rodney Williams (Bill Nighy), who receives a terminal medical diagnosis and promptly sets out to cram some fun into his final days and be reminded of the pep of youth.
Also nominated for: Best Lead Actor (Bill Nighy)
How to watch: In select theaters
Best Animated Film
Guillermo del Toro's Pinocchio
Helmed by: Guillermo del Toro, Mark Gustafson, Gary Ungar and Alex Bulkley
Guillermo del Toro's Pinocchio, released months after Disney's soulless CGI remake, is the moviemaking magic that happens when a director is doggedly determined to carry out his bonkers — and brilliant — vision, and a studio is equally set on making his wish come true. The Mexican dark fairytale auteur, known best for Pan's Labyrinth, The Shape of Water, and Hellboy I and II, has attested that Pinocchio was his passion project. Del Toro's affection for the story (and his unique twist on it) is evident in the stop-motion feature.
How to watch: Netflix
Marcel the Shell With Shoes On
Helmed by: Dean Fleischer Camp, Elisabeth Holm, Andrew Goldman, Caroline Kaplan and Paul Mezey
The cutest one-inch-tall shell embarks on a quest to reunite with his family after a "mysterious tragedy." Aided by a documentary filmmaker who discovers the talking shell wandering around his Airbnb, Marcel the Shell With Shoes On is a lesson in how to turn a viral short film into a lovely, quietly heartbreaking film about appreciating the little things in life.
How to watch: Rent on Amazon Prime Video or Apple TV+
Helmed by: Joel Crawford and Mark Swift
Antonio Banderas reprises his role as chivalrous gatito, Puss in Boots, after we last saw him cracking Humpty Dumpty once and for all in his first standalone flick post-Shrek saga. It's been a while, so Puss looks different — and we don't just mean the stunning painterly style that upended the Uncanny Valley look of previous Dreamworks installments — but he's also got graying whiskers, and a look of genuine fear in his oh-so-cute eyes. He's burnt through eight of his nine lives. Will he finally learn to appreciate his last?
How to watch: Rent on Amazon Prime Video or Apple TV+
The Sea Beast
Helmed by: Chris Williams and Jed Schlanger
In the underseen Netflix film, "A young girl stows away on the ship of a legendary sea monster hunter, turning his life upside down as they venture into uncharted waters." The Sony Pictures Imageworks film also takes a cue from Spider-Man: Into the Spider-Verse to give a fresh take on computer animation, to the acclaim of critics. It must be good — a sequel is already in the works.
How to watch: Netflix
Helmed by: Domee Shi and Lindsey Collins
Pimples, stinky pits, periods, popular versus unpopular cliques: puberty sucks no matter the gender or the era you grew up in. In Turning Red's case, we're transported back to the early aughts in Toronto, where life for 13-year-old Meilin Lee (Rosalie Chiang) consists of sweeping her family's temple, singing along to boy band songs with her three best friends, and taking care of her Tamagotchi ... until puberty strikes. Then all Meilin can do is draw her crushes as mermen and, oh, yeah, turn into a giant, fluffy red panda.
How to watch: Disney+
Best Visual Effects
VFX by: Dan Lemmon, Russell Earl, Anders Langlands and Dominic Tuohy
We all know the stories of the Caped Crusader's capers, but they've never been told quite like this. There's just as much ass-kicking, grittiness, and gruff-voiced Bruce Wayne (Robert Pattinson) as all of the other movie iterations, but this time, Batman — and the audience — get wrapped up with solving dangerous riddles terrorizing Gotham before they become deadly.
Also nominated for: Two other categories
How to watch: HBO Max
Black Panther: Wakanda Forever
VFX by: Geoffrey Baumann, Craig Hammack, R. Christopher White and Dan Sudick
Synopsis: In the wake of King T'Challa's — and his real-life actor, Chadwick Boseman's — death, Wakandans struggle to embrace this next chapter without the former Black Panther's ideals and intimidating presence. In his absence, intervening world powers attempt to exploit Wakanda for her Vibranium, while a secret, underwater kingdom led by radical anti-imperialist Namor the Sub-Mariner (Tenoch Huerta) tries to get way with global anarchy, drowning Wakanda with it.
Also nominated for: Four other categories
How to watch: Disney+ (starting on Feb. 1).
The 95th Academy Awards (Oscars 2023) air on ABC on March 12, 2023 at 8 p.m. ET.