RRR's Oscars snub proves the award's most blatant flaw
The Telugu film was snubbed from the International Film Oscar category, but the fault doesn't lie with the voters.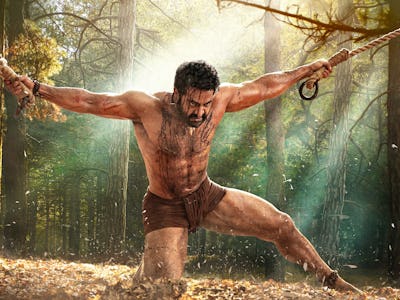 International film is supposedly entering a new golden age, one where streaming has made once inaccessible films easy to watch in entirely new markets. We saw the payoff of easier access in 2020, when Bong Joon-ho's Parasite nabbed not only the Academy Award for Best International Feature Film, but also the Best Picture Oscar.
"Once you overcome the one-inch tall barrier of subtitles, you will be introduced to so many more amazing films," Bong Joon-ho said in his acceptance speech. It was a declaration that seemed to herald a new wave of awards for popular international movies. But in 2023, the big-ticket Oscar nominations overlooked one of the year's few foreign blockbusters: RRR. Unfortunately, its snub for International Feature isn't a big surprise, because it's been doomed from the start.
The International Feature Academy Award (previously known as Best Foreign Language Film) doesn't work like the other categories. Instead of the best films from around the world being selected on their own merit, every country can nominate a single film. So even if two of the year's best films came from a single nation, only one can be put forward.
This year, India nominated the coming-of-age drama Last Film Show. It seems like the perfect Oscar bait: it's a movie about nostalgia and the film industry, a recurring theme throughout Oscar nominations (see also 2023's The Fablemans, 2021's Mank). It even made the shortlist for Best International Feature, a rare achievement for Indian film. But it wasn't RRR.
RRR, the no-holds-barred historical epic directed by S. S. Rajamouli, made a splash in American theaters and had a very impressive showing on Netflix. It seemed like a no-brainer nominee, and it maybe even had the potential to break into the Best Picture race (Germany's submission for Best International Feature, All Quiet on the Western Front, made the Best Picture cut).
But this isn't the first time a massively popular international film was dismissed for a more "palatable" selection — in 2017, Park Chan-Wook's creepy psychological love story, The Handmaiden, was snubbed in favor of thriller The Age of Shadows. RRR wasn't completely shut out of the Oscar race, as the suspender-twirling showstopper number "Naatu Naatu" garnered a nod for Best Original Song. It's just odd that a film good enough to be nominated for reams of other awards still wasn't considered the best movie India produced.
This isn't a condemnation of India's selection committee, but the entire structure of the International Feature Oscar. Last Film Show is probably more Oscar-friendly than RRR, but both could have made the shortlist if the "one country, one movie" rule wasn't in place. There are countless international features worthy of award consideration, and assuming that each country only produces one of note is ridiculous. If the Best Picture category was allowed to double in size, why not Best International Feature?
While RRR fans may be disappointed, this at least provides more evidence that the issue with the International Film Oscar wasn't its name, but its rules. Rewriting the rulebook is always a pain, but the possibility that a country could make two great movies isn't exactly rare and shouldn't be ignored.
RRR is now streaming on Netflix.