Obi-Wan Kenobi Episode 5 release date, time, cast, and trailer for the Star Wars show
Here's everything you need to know.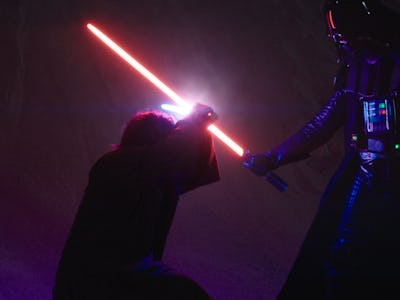 The end is in sight for Obi-Wan Kenobi, with just two episodes left to wrap things up! Last week we picked up after the less-than-impressive lightsaber duel between Darth Vader and Kenobi on Mapuzo, with Tala (Indira Varma) taking the legendary Jedi to the sanctuary world of Jabiim to heal from his burns in a Bacta tank and regroup.
Leia was being held prisoner by Reva at the impenetrable Fortress Inquisitorius on the water moon of Nur near Mustafar. A plan is hatched to take speeders under the cover of darkness to break into their triangular base of operations. Using her Imperial clearances and posing as a prisoner transport, Tala lands at the fortress and opens an underwater entry port for Kenobi.
Inside, Reva employs a sinister torture droid to extract intel from Leia while Kenobi creeps closer. The young Skywalker twin is eventually saved by Kenobi when Reva is distracted by Tala. A valiant battle at the landing platform ends with Kenobi, Tala, and Leia escaping — and Reva answering to an angry Darth Vader.
Time is running out to get Leia back to Alderaan with Vader and Reva still on the hunt for Jedi blood. Let's dip into the details of Obi-Wan Kenobi Episode 5 to see what plot threads remain, along with the official release date, start time, plot, and more.
When is the Obi-Wan Kenobi Episode 5 release date?
Obi-Wan Kenobi Episode 5 airs exclusively on Disney+ starting Wednesday, June 15, 2022.
What is the release time for Obi-Wan Kenobi Episode 5?
Disney+ unveils new movies and TV shows at midnight Pacific, which is 3 a.m. Eastern.
How many episodes are left in Obi-Wan Kenobi Season 1?
After this new installment, there's just one episode left. The Star Wars miniseries consists of six episodes all directed by Deborah Chow (The Mandalorian). The first two episodes dropped on May 27, 2022, followed by weekly installments until the June 22, 2022 finale.
What can we expect from the plot of Obi-Wan Kenobi Episode 5?
We've reached the penultimate chapter of the series and our trio of Kenobi, Leia, and Tala are on the run once again, though now with a tracker affixed to Leia's droid Lola. As Kenobi has sharpened his use of the Force in the stronghold rescue scenes, expect him to be in top form when his next duel with Vader eventually arrives.
Reva should be following the tracker's signal to end the secret underground railroad for Force-sensitives called The Path, but we suspect an element of redemption in store for her and there's evidence that she was once a Jedi youngling abducted by the Empire during Order 66.
And we've yet to see Kenobi's connection to Qui-Gon's Force ghost so that's sure to pop up.
As a refresher, Obi-Wan Kenobi takes place ten years after Palpatine's purging event of Order 66 to exterminate all Jedis – as seen in 2005's Revenge of the Sith. This Disney+ series depicts the Jedi Master's time on Tatooine watching over young Luke Skywalker while trying to steer clear of ruthless Jedi hunters called Sith Inquisitors.
Who's in the cast of Obi-Wan Kenobi?
After a 17-year hiatus, Ewan McGregor is back as the grizzled Jedi hermit in exile. Hayden Christensen inhabits the dark side once again as the evil Sith Lord, Darth Vader. The remaining main cast includes Moses Ingram as Reva/Third Sister, Sung Kang as Fifth Brother, Joel Edgerton as Owen Lars, Bonnie Piesse as Beru Lars, and Vivien Lyra Blair as young Leia.
Is there an Obi-Wan Kenobi Episode 5 teaser trailer?
Presently, there is no official preview for the upcoming episode. But you can rewatch the series' official May 4th trailer below.
Will there be an Obi-Wan Kenobi Season 2?
Lucasfilm President Kathleen Kennedy has spoken many times about the potential of another season since everyone had such an enjoyable experience filming, but right now, Obi-Wan Kenobi remains a one-and-done show.
Obi-Wan Kenobi Episode 5 premieres on Disney+ on June 15, 2022.