Indira Varma just introduced an important new type of character to Star Wars
Tala Durith offers a taste of what to expect from Andor.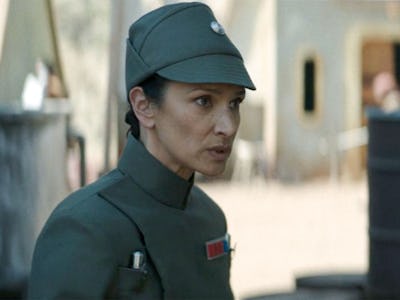 We only recently met Imperial officer turned spy Tala Durith, but viewers are already impressed by actor Indira Varma's nuanced take on the character and the meticulous duality she requires.
The stakes are high among the Empire's trigger-happy officers and Inquisitors, who spend their days "restoring order" by hunting-down enemies of Darth Vader and the Emperor. Tala stands her ground and is quick on her feet, lying on the fly to keep her Imperial officer cover for as long as possible as she escorts Obi-Wan Kenobi (Ewan McGregor) and Princess Leia (Vivien Lyra Blair). When her fealties are uncovered by the end of Episode 4 she escapes to, presumably, one of the safe houses used by the Alliance to Restore the Republic.
Who is Tala Durith?
Fans of Game of Thrones, Carnival Row, and The Legend of Vox Machina may have recognized actor Indira Varma. A character actor with nearly 30 years of experience under her belt, Varma is a scene-stealer in Obi-Wan Kenobi, particularly in Episode 4 when we see her ability to straddle her character's authentic Rebel sensitivities and pretend Imperial persona shine.
Tala narrowly escaped being caught by the relentless Inquisitor, Third Sister Reva (Moses Ingram), in both Episodes 3 and 4. We may or may not see more of her but, if the lifeless Jedi encased in amber we see in Episode 4 are any indicator of the ruthlessness of the Inquisitors, Tala's betrayal won't be taken lightly.
Putting Spycraft in Star Wars
While Tala's fate is up in the air, viewers eager for more Star Wars espionage won't have to look far. The subgenre will be explored in Disney+'s Andor, which delves into Cassian Andor's (Diego Luna) life on Coruscant as a thief turned Rebel spy five years prior to the events of Rogue One.
Given the phenomenal writing of Tala Durith's role in Obi-Wan Kenobi and what she represents in the grander scheme of the Rebellion — one of, we assume, many Imperial defectors disillusioned by the tyranny of the Galactic Empire — the odds that Andor will do good by Star Wars' spies are looking good. It's an underexplored element of the Star Wars universe, but as the Jedis and ace pilots get all the glory there are characters like Tala and Andor working in the shadows to make those heroic moments possible.
Obi-Wan Kenobi releases new episodes on Disney+ every Wednesday.