Obi-Wan Kenobi Episode 4 release date, time, plot, cast, trailer, and Disney Plus schedule
After a tense clash with Darth Vader, what's next for the scorched Jedi?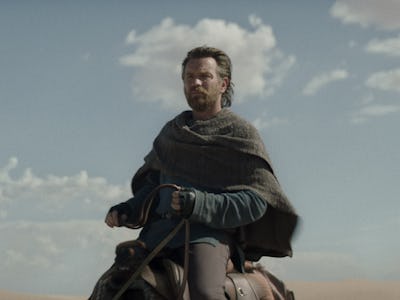 We're already past the midpoint in the live-action Star Wars prequel series, Obi-Wan Kenobi, and the story seems to be setting up even more galactic drama for the final episodes.
Last week's chapter saw the anticipated encounter between Jedi Master Obi-Wan Kenobi and his former Padawan Anakin Skywalker, who's now encased in a black iron helmet as the newly christened Darth Vader. It might not have been the epic duel we were hoping for, but it did stir our Star Wars blood to see the red and blue lightsaber beams clash and crackle.
With Reva now having cornered Little Leia and the injured Kenobi unlikely to leave her on Mapuzo, will the young Alderaan princess be able to toddle away from the embittered Inquisitor's grasp? Let's see what's on tap for Obi-Wan Kenobi Episode 4.
When is the Obi-Wan Kenobi Episode 4 release date?
Obi-Wan Kenobi Episode 4 airs exclusively on Disney+ starting Wednesday, June 8, 2022.
What is the release time for Obi-Wan Kenobi Episode 4?
Disney+ unveils new movies and TV shows at midnight Pacific, which is 3 a.m. Eastern.
How many episodes are left in Obi-Wan Kenobi Season 1?
After this new segment, there are two episodes left. Disney+'s miniseries consists of six episodes directed by Deborah Chow (The Mandalorian). The first two episodes dropped on May 27, 2022 followed by weekly installments until the June 29, 2022 finale.
What can we expect in Obi-Wan Kenobi Episode 4?
As we near the penultimate episode (and hopefully a more-engaging Vader-Kenobi duel), Obi-Wan is getting closer to channeling the Force ghost of his old master, Qui-Gon Jinn, and it shouldn't be much longer before we see that connection. This conduit could bring back Liam Neeson as the Jedi who met his demise at the hands of Darth Maul in The Phantom Menace.
The Inquisitor schemer Reva is bound to try and manipulate Leia and use her as leverage against Kenobi, who is bound for a transport ship headed toward the sanctuary world of Jabiim. The extent of his burns resulting from Vader's torture is not known, but we expect the loader robot to factor into his and Tala's eventual escape since Reva will no doubt leave with a captured Leia.
As a recap, Obi-Wan Kenobi picks up a decade after Palpatine's purging event of Order 66 to exterminate all Jedis – as seen in 2005's Revenge of the Sith. This Disney+ series depicts the Jedi Master's life in exile on Tatooine watching over young Luke Skywalker, while trying to steer clear of ruthless Jedi hunters called Sith Inquisitors.
Who is in the Obi-Wan Kenobi cast?
Back after a long absence but never missing a beat, Ewan McGregor returns as the grizzled Jedi hermit in exile. Hayden Christensen inhabits the dark side again as the evil Sith Lord, Darth Vader. The remaining main cast includes Moses Ingram as Reva/Third Sister, Sung Kang as Fifth Brother, Joel Edgerton as Owen Lars, Bonnie Piesse as Beru Lars, and Vivien Lyra Blair as young Leia.
Is there an Obi-Wan Kenobi Episode 4 teaser?
Presently, there is no official preview for the upcoming episode. But you can rewatch the series' official trailer below.
Will there be an Obi-Wan Kenobi Season 2?
As the wise Yoda once said, "Difficult to say. Always in motion is the future."
Lucasfilm president Kathleen Kennedy has spoken many times about the potential of another season since everyone had such an enjoyable experience filming, but right now, Obi-Wan Kenobi remains a one-and-done show.
Obi-Wan Kenobi Episode 4 premieres on Disney+ on June 8, 2022.