Obi-Wan Kenobi release date, time, plot, cast, and trailer for the Star Wars prequel spinoff
Ewan McGregor reprises his Forceful role in this new Star Wars spinoff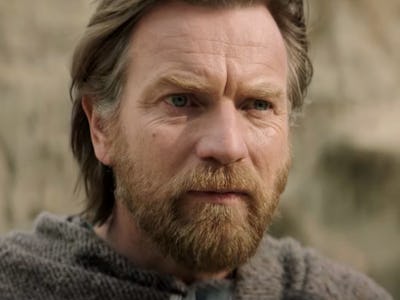 Ever wonder what legendary space wizard Obi-Wan Kenobi did while in exile on Tatooine? Disney+ is going to fill you in on many unexplored moments in his life in its new live-action Star Wars miniseries, aptly titled Obi-Wan Kenobi.
This latest dispatch from the galaxy far, far away takes place in the aftermath of the turbulent events of Revenge of the Sith, when the Skywalker twins are whisked away to hide from their Sith Lord father. While Leia is in the custody of Bail Organa to be raised as a princess, tiny Luke gets the short end and is handed over to Owen and Beru Lars to grow up on a moisture farm while Obi-Wan watches from a distance.
Let's hydrate and dive into all the details of Obi-Wan Kenobi.
What is the Obi-Wan Kenobi release date?
Obi-Wan Kenobi airs exclusively on Disney+ starting Friday, May 27, 2022.
What is the release time for Obi-Wan Kenobi?
Disney+ unveils new movies and TV shows at midnight Pacific, which is 3 a.m. Eastern.
How many episodes is Obi-Wan Kenobi?
Obi-Wan Kenobi will consist of six episodes, all directed by Mandalorian veteran Deborah Chow. The first two episodes will drop on May 27, 2022, followed by weekly installments until the June 29, 2022 finale.
What is the plot of Obi-Wan Kenobi?
Obi-Wan Kenobi picks up roughly 10 years after the Jedi purge seen in 2005's Revenge of the Sith. It chronicles the Jedi Master's life in exile on Tatooine, where he protects the young Luke Skywalker while eluding a fierce detachment of Sith Inquisitors tasked with exterminating any remaining Jedi.
These relentless hunters report to the Grand Inquisitor and are led by the Fifth Brother and Seventh Sister, skilled assassins who were last seen in Star Wars: Rebels Season 2. And yes, Darth Vader will also be featured in Obi-Wan Kenobi, as rumors persist he'll lock lightsabers again with his former master.
Who stars in Obi-Wan Kenobi?
After a long break from Star Wars, Ewan McGregor will reprise his role as middle-aged Jedi hermit Obi-Wan. Another legacy actor, Hayden Christensen, also returns to suit up as Darth Vader after 17 years away from the role. The remaining main cast includes Rupert Friend as The Grand Inquisitor, Moses Ingram as Seventh Sister, Sung Kang as Fifth Brother, Joel Edgerton as Owen Lars, Bonnie Piesse as Beru Lars, and Grant Feely as Luke Skywalker.
Is there a trailer for Obi-Wan Kenobi?
Yes, Disney+ released the latest trailer on, May 4, 2022, and it's a tense preview of the drama to come.
Will there be an Obi-Wan Kenobi Season 2?
Lucasfilm President Kathleen Kennedy recently discussed the possibility of a second season with Entertainment Weekly.
"It's certainly something we talk about," she said. "Mainly because everybody came together and had such an incredible time. Ewan had an incredible time. Hayden had an incredible time. So certainly from that point of view, everybody involved would love to see this not end. But we have to really spend our time asking the question: Why would we do it? If we were to decide to do anything more with the Obi-Wan character, we'd have to really answer the question why?"
So while a second season sounds plausible, don't hold your breath.
Obi-Wan Kenobi premieres on Disney Plus on May 27, 2022.