Star Wars leak may reveal Darth Vader's surprising next enemy
Ahsoka's cast might be even more impressive than Star Wars fans think.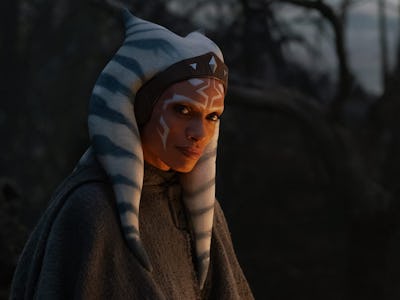 There aren't many upcoming Star Wars projects more highly anticipated than Ahsoka. The series will pick up where The Mandalorian and The Book of Boba Fett left off by telling a story centered entirely around Rosario Dawson's live-action iteration of Ahsoka Tano. In case that wasn't exciting enough, the second season of The Mandalorian even hinted that Ahsoka will focus on several unresolved story threads left hanging at the end of Star Wars Rebels.
Now, one new leak suggests that Ahsoka will also delve into its star's difficult past by bringing back a character she famously crossed paths with in the Season 2 finale of Rebels.
The Leak — According to a recent report from MakingStarWars.net, Ahsoka may feature a surprise appearance from none other than Darth Vader. The outlet claims they've heard Vader will appear in another Star Wars series after Obi-Wan Kenobi, and they believe Ahsoka is likely the project in question. Additionally, MakingStarWars notes that they've heard James Earl Jones will once again return to voice the iconic villain.
The outlet's report does not, however, offer any specific details about what Vader's role in Ahsoka might be, or how large of a presence he'll have in it. That's assuming they're even correct about Darth Vader being in Ahsoka at all.
Ahsoka's Fallen Teacher — If Darth Vader really is in Ahsoka, it's difficult to predict what the nature of his role might be. One has to assume his appearances will be restricted to flashback sequences, although there's no way of knowing the context of those flashbacks.
For all we know, it's possible that Dave Filoni and the Ahsoka team are planning on recreating Ahsoka and Darth Vader's iconic lightsaber duel from Star Wars Rebels Season 2. If that's indeed the plan, it would certainly make for a noteworthy moment in the Mandalorian spin-off.
That said, it's also possible that any appearances from Vader in Ahsoka will involve scenes or moments that fans haven't seen yet.
The Inverse Analysis — In a way, it makes sense that Darth Vader might show up in Ahsoka. Outside of Obi-Wan Kenobi (Ewan McGregor), there's no other lead character in Star Wars with a bigger relationship to the fearsome Sith Lord than Dawson's Ahsoka Tano. It's for that reason that fans have speculated for months that Hayden Christensen will also appear in Ahsoka as Anakin Skywalker.
As of now, it remains to be seen if that latter theory is correct. However, if this new leak is even remotely accurate, then it looks like Star Wars fans may want to prepare themselves to see Darth Vader return yet again.
Ahsoka is expected to premiere on Disney+ in 2023.