Why The Best Netflix Show of 2023 Is Also Great News for Marvel Fans
Suddenly, one upcoming MCU film seems more promising than it did before.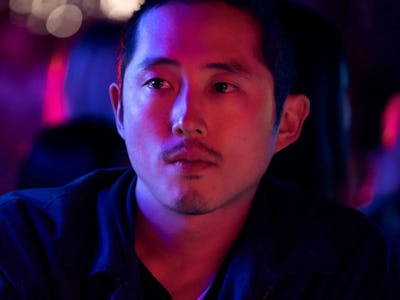 Netflix
The Marvel Cinematic Universe is in a bit of a weird place right now. Over the past two years or so, Marvel Studios' films and Disney+ shows have been hit with consistent criticisms over their disappointing visuals and even more lackluster scripts. Even this year's Ant-Man and the Wasp: Quantumania, which was supposed to truly kick off the MCU's new post-Thanos story, was met with an overwhelmingly tepid financial and critical response.
As a result, fans' general excitement about the MCU seems to have diminished in recent months. That doesn't, however, mean there aren't any upcoming MCU projects that are worth getting excited about. As a matter of fact, even though casual viewers might not realize it, Season 1 of Netflix's new original series, Beef, has suddenly made one of Marvel's forthcoming crossover titles look a whole lot more promising.
Beef, which charts the surprisingly dark fallout of a brief road rage encounter between two embittered souls, Danny (Steven Yeun) and Amy (Ali Wong), isn't like many other shows that are on TV right now. It's darkly funny, immensely well-acted, and emotionally devastating in ways that are often difficult to see coming. The series' first season has, consequently, been met with overwhelming acclaim from critics, including Inverse's own Hoai-Tran Bui, who called it a "razor-sharp black comedy" in her review of the show.
Over the course of the past year, Beef has also become intrinsically linked to — of all things — Marvel's Thunderbolts. The film is, notably, set to be directed by Jake Schreier, the veteran film, TV, and music video director behind six of Beef's first 10 episodes. Given just how much Schreier brought to Beef's visually stylish and distinct look, his involvement in Thunderbolts would be reason enough to start getting excited about the Phase 5 MCU film. Beef's connections to Thunderbolts don't start and end with Schreier, though.
In February, it was revealed that Beef star Steven Yeun had signed on to play a major, still-undisclosed role in the film. Yeun's recent track record has made him one of the most consistently interesting performers working today, so it was easy to immediately take his Thunderbolts casting as a positive sign for the blockbuster. Having now seen the work he and Schreier did together on Beef, though, Yeun's involvement in Thunderbolts seems even more exciting than before.
In case Yeun and Schreier's involvement in Thunderbolts wasn't exciting enough, it was just announced at the end of March that Beef creator and showrunner, Lee Sung Jin, has been hired by Marvel to take over screenwriting duties on the film. That makes the MCU title an unexpected reunion project for Lee, Schreier, and Yeun — one that Lee agreed to work on specifically because Schreier expressed his interest in having the Beef creator come aboard.
Together, Schreier, Lee, Yeun, and their collaborators were able to turn Beef into one of the best shows of the year. Beyond its overall quality, though, part of what makes Beef so impactful is just how unique and specific the creative vision behind it feels. In their various roles, Yeun, Schreier, and Lee were not only able to get on the same wavelength as each other but also use their respective strengths and skills to create a show that looks and feels cohesive and distinct.
The Inverse Analysis — There's no telling how Thunderbolts will ultimately turn out. Marvel is undeniably in a rut right now, and both the MCU's critics and fans are waiting to see whether or not the studio has the ability to climb out of it. It's worth noting, though, that what Marvel is doing with Thunderbolts is exactly what many of its biggest critics have long hoped it would.
That is to say that the team behind the film is shaping up to be a crew of immensely talented on-screen and off-screen creators — several of whom have already managed to make something great together. The biggest question surrounding Thunderbolts, therefore, isn't whether or not Schreier, Yeun, and Lee have the ability to turn in a quality film, but if Marvel will allow them to deliver something that feels, at the very least, as creatively assured as Beef.
Beef Season 1 is streaming now on Netflix. Marvel's Thunderbolts is set to hit theaters on July 26, 2024.