Beef Serves Up Road-Rage Revenge With a Side of Withering Social Satire
Steven Yeun and Ali Wong dish it out in a razor-sharp black comedy.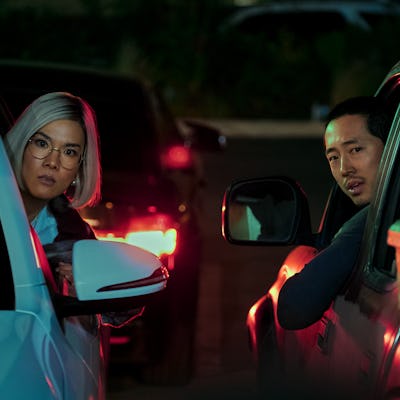 A24 / Inverse
What is Beef even about? The new Netflix series starring Steven Yeun and Ali Wong has one of those infuriatingly opaque titles — one that makes one's mind immediately jump to a docuseries on the meat industry, or maybe a cooking show about mouthwatering cuts of steak. But Beef refers to the colloquial term for "feud," the kind that arises from a particularly aggressive case of road rage between Yeun's Danny Cho and Wong's Amy Lau, and which spirals out of control until it starts to violently destroy the lives of everyone around them.
The thing about Beef is that neither its title nor its premise does justice to just how smart and darkly funny this dramedy series is. Created by Lee Sung Jin as an A24 and Netflix co-production, Beef has all the teeth of today's most withering social satires, and more perspective and wit than most "eat the rich" thrillers. Despite the spectacular heights Danny and Amy's feud takes the 10-episode series to, Beef remains a singularly grounded (and might I say, raw) depiction of the fractured state of the Asian-American experience.
At the beginning of Beef, Danny Cho has reached his limit. His construction business is in the gutter, he can't afford to bring his aging parents back to the U.S., his brother Paul (a guilelessly charming Young Mazino) is a good-for-nothing freeloader, and he's barely keeping his suicidal thoughts at bay. At his lowest point, someone rudely honks at him in the parking lot of a HomeGoods-style store, before cutting him off and giving him the finger. Enraged, Danny gives chase, the two of them bulldozing their way through the cleanly cut lawns of suburban LA in a violent fit of road rage. The driver gets away, but Danny gets their license plate number. And thus begins the life-destroying feud between Danny and Amy.
Amy, for her part, is on the edge of unraveling, too. A successful small business owner on the verge of making a million-dollar deal, Amy should be happy. She has a husband (a hilariously dense Joseph Lee) and child that adore her, a beautiful house she designed herself, and a cushy upper-class life she made for herself despite her humble beginnings. But where Danny has nothing to lose, Amy has everything to lose — and she's crumbling under that pressure when a random car suddenly backs into hers. She honks on reflex, and a feud is born.
With its heightened stakes and potent class commentary, Beef sets itself up as a new-age Parasite (Amy's house looks exactly like the mansion in Bong Joon-ho's Oscar-winning film), but it has a little more on its mind than just skewering the rich. Instead, the series feels like it picks up from the thorny, unvarnished depictions of Asian diaspora struggles in Everything Everywhere All At Once, carving out a new space for the refreshingly flawed Asian American. Trauma is no longer just generational — now we're doing it to ourselves.
Beef is ruthlessly unsentimental towards either side of its feud — Danny flirts with criminality thanks to the re-emergence of an ex-con cousin (David Choe, impressively mercurial in his first major acting role) and makes a few choice betrayals that leave his family dynamics shattered. Amy lashes out against her stifling social status by engaging in some light catfishing. All the while, their vendettas against each other become increasingly deranged, with acts of vandalism eventually escalating to a bloody conclusion.
Its one failing is that Beef affords a touch more sympathy towards Yeun's Danny, possibly because Amy's life isn't given nearly as much screentime as his. To be fair, Yeun is brilliant as Danny: desperate, likable, and slightly despicable all at once. While Wong impresses in her most dramatic turn yet as the tightly wound, barely-together Amy, her privileged home life skews more towards classic social satire than Danny's messy crime saga. Amy's main foil, for example, is the ultra-rich Jordan (a hilarious Maria Bello), who feels like a cartoonish iteration of the token white performative "ally" ripped straight from a Ruben Östlund movie.
But when Yeun and Wong share the screen, Beef is absolutely electric. The pair's barely masked hostility towards each other plays out deliciously each time, as does the creeping knowledge that these two desperately unhappy people are a little more similar than they'd like to believe.
In parts, Beef sometimes feels like a series of slightly disconnected vignettes. The middle, especially, feels aimless. But considered as a whole, it's one of the richest TV experiences of the year. It's a wonderfully complex, maddeningly ambiguous look at what happens when two people let one incident get the better of them — and the bodies that can pile up as a result.
Beef premieres on Netflix on April 6.