How Beef Cuts to the Heart of Asian American Angst
The cast of the new Netflix series finds catharsis in revenge.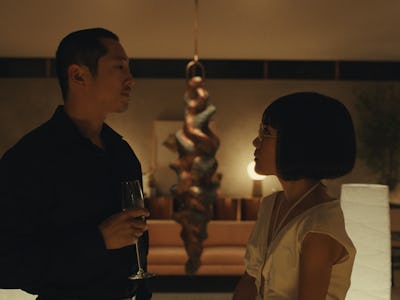 Netflix
On paper, Beef is a tale of how road rage escalates to frightening heights. But beneath the surface is a simmering stew of repressed rage, second-generation Asian American angst, and yes, generational trauma. It's an astonishingly honest and unglamorous portrayal of the Asian American experience and one unconcerned with buzzwords like "diversity" or "representation." This is life, as is — albeit a heightened snapshot of life, as derailed by a common traffic occurrence. And to stars Steven Yeun and Ali Wong, who play the central characters of the Netflix/A24 series created by Lee Sung Jin, that was the intention.
"When we were making it, we're not thinking about all those things," Yeun tells Inverse over Zoom. "Even down to the Asian Americanness, [which] is surely what we're authentically hoping to represent."
With a mostly Asian cast that includes Justin H. Min (After Yang), Patti Yasutake (Star Trek: The Next Generation), David Choe, Ashley Park (Emily in Paris), Joseph Lee, and Young Mazino, one could immediately assume that Beef is a show that ticks the boxes of representation — maybe it tells a story of generational divide or of a cultural clash. But Beef has more on its mind than that, folding in a social satire within its story of a road-rage feud. To Joseph Lee, who plays the rich and privileged husband of Wong's Amy, this is just the next step in the depiction of Asians in film and TV, following the path laid down by recent touchstones like Everything Everywhere All at Once and The Farewell.
"I think it's really a human story of people that I hope everyone can relate to."
"When you don't have that many examples of having representation, I think there's an immediate effect to put people in very extreme kinds of versions of themselves," Lee tells Inverse. "And I think what you're seeing now is the industry kind of shifting into this next stage where we're dissecting and bringing out all those nuances within our community."
Young Mazino, who plays the younger brother of Yeun's Danny, agrees. "The differences in class between the two groups, and how real and raw it is on both sides... It's very multi-dimensional in that sense," Mazino adds.
In Beef, lines are drawn between the rich and the poor. But it's not quite the "eat the rich" satire that has become the trend du jour in Hollywood these days. "I think it's really a human story of people that I hope everyone can relate to," Yeun observes, "of all sides of being a person, good or bad, just the totality of being a human being, living these days especially."
Beef, refreshingly, doesn't make any judgments about good or bad. Yeun's Danny is a down-on-his-luck contractor who is willing to make some questionably legal decisions in the name of bringing his aging parents to the United States. Wong's Amy is a successful small-business owner who loves her husband and child above all else, but — let's face it — is kind of a bitch. When these two deeply unhappy people collide, it explodes into a feud so furious that it burns down everything they love. They both make mistakes. They both hurt the people around them. They're both responsible for the surprising amount of violence that springs up around their feud. It makes it hard to sympathize with one or the other, and it makes Beef a wholly discomfiting experience to watch. Which is what Wong, an executive producer on the series alongside Yeun, wanted for the audience.
"It's more interesting if you have a hard time sitting with somebody," Wong says. "Because I think [Lee Sung Jin] really wanted people to walk away from the show with something different. We don't want everyone to walk away with any message intentionally, but I think he definitely wanted everyone to identify with some part of each character and with their choices."
What's most intriguing about Beef is that not only does it not take either side of its central feud, it withholds blame from that one great cinematic bogeyman, generational trauma. The concept has appeared in almost every recent Asian-led film, from Everything Everywhere to Turning Red, but doesn't quite get the same blame in Beef. There are fascinating gestures toward mental health and how Asian communities repress those conversations, but Beef digs a little deeper. It's something that Lee, whose character George takes great pains to help Amy with her feelings of depression, takes great pride in.
"We've been initiated in society to not be vulnerable and to not show weakness," Lee says, "and we're breaking down those constructs of what it even means to be an Asian man or a man in general."
"It's more interesting if you have a hard time sitting with somebody."
Beef doesn't quite come to any solid conclusions about the many knotty issues of life as an Asian American — in fact, it feels like it's only just starting to untangle them. Could they potentially be further explored in Season 2?
"We're just trying to live in the present!" Wong says. "Steven and I aren't very calculated in that way. We're just kind of trying to get through tomorrow."
Yeun, who is gearing up for his introduction in the MCU as a member of the Thunderbolts (can he say anything about his role? Inverse asks, to a definitive "no"), just hopes people enjoy the show. "And then we'll see what happens after that."
Beef premieres April 6 on Netflix.