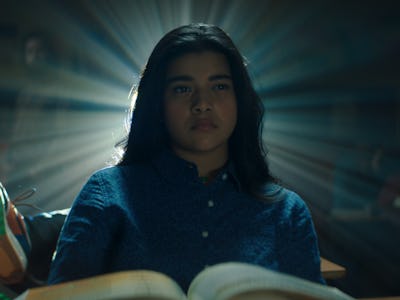 "Your power isn't coming from the bangle. It's coming from within you."
Ms. Marvel just subtly set up a massive MCU Inhumans twist
'Ms. Marvel' has just made it clear who's responsible for Kamala Khan's powers. Here's how Episode 2 of the Disney+ series opens the door for Iman Vellani's Kamala to be an Inhuman in the MCU.
The Marvel Cinematic Universe's version of Kamala Khan (Iman Vellani) is a little different than the character fans know from the comics.
For starters, Ms. Marvel has made some significant changes to Kamala Khan's superpowers. Rather than being a polymorph who can alter the size and shape of her body at will, the MCU's Kamala is able to conjure "hard light" that allows her to run through the air and create giant fists and discs of pure energy. However, while Ms. Marvel has already changed the nature and look of Kamala's powers, it ultimately might not change the source of them.
Ms. Marvel Episode 2 even hints that Kamala Khan may very well still be an Inhuman.
Kamala Khan's Origin Stories — In the comics, Kamala Khan is a teenager whose Inhuman genes are activated after she becomes exposed to Terrigen Mists, which have the power to alter an Inhuman's biology. Following her encounter with the Mists, Kamala discovers that she suddenly has the ability to change the shape, form, and size of her body.
In Ms. Marvel, Kamala discovers her "hard light" powers after putting on a bangle sent to her family by her grandmother. The bangle glows purple when worn and allows Kamala to conjure hard light around her. In other words, Kamala's origin story in the comics is very different from her origin in the MCU.
That said, Episode 2 of Ms. Marvel also goes out of its way to confirm that Kamala's powers aren't coming from the bangle. Instead, Bruno (Matt Lintz) tells her that he believes her powers are coming from within her. According to him, the bangle simply "unlocked the superhuman part" of Kamala.
The Source of Kamala's Powers — In response to Bruno's theory, Kamala jokingly asks, "So, what, am I like Asgardian, or something?" Bruno laughs the comment off, but the exchange makes it clear that Kamala's powers are very much a part of her. That raises the possibility that Kamala may still be an Inhuman like she is in the comics.
We'll have to wait and see, of course, but Marvel's decision to emphasize that Kamala's bangle is just a channel for her own superpowers is noteworthy. On its own, Kamala and Bruno's conversation ensures that the credit for Kamala's transformation isn't given solely to her bangle. Beyond that, though, the scene also opens the door for Kamala to still be an Inhuman.
A few years ago, the idea that the MCU would ever again reference the Inhumans would have seemed laughable. However, coming off of Anson Mount's cameo as Black Bolt in Doctor Strange in the Multiverse of Madness, the chances of Kamala Khan being an Inhuman in the MCU suddenly don't seem too slim. Multiverse of Madness also references the Terrigen Mists, so it's clear Marvel isn't totally unwilling to acknowledge certain elements of Kamala's Inhuman origins.
The Inverse Analysis — Heading into Ms. Marvel, comic book readers were understandably concerned that the show's changes to Kamala Khan's powers might rob her of some elements that make her such a unique hero. Her status as an Inhuman is, after all, a major part of who she is in the comics.
The possibility that she won't be an Inhuman in the MCU is disappointing, which is why Kamala and Bruno's brief exchange in Ms. Marvel Episode 2 is so exciting. Maybe Marvel is just keeping the door cracked open in case they want to revisit the Inhumans in the future, but at the very least the scene suggests that there's more to Kamala's MCU origin story than meets the eye. At this point, anything seems possible.
Ms. Marvel is streaming now on Disney+.