Ms. Marvel Episode 2 ending explained: Is [SPOILERS] a secret supervillain?
Kamala Khan has two complicated love interests in her Marvel comics run.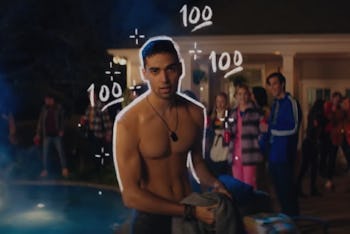 Sorry, Bruno and Kamala shippers. In Ms. Marvel Episode 2, Kamala Khan (Iman Vellani) only has eyes for the new mysterious high school hunk, Kamran (Rish Shah). The duo bond and flirt throughout, but is this budding romance between the two Jersey City teens too good to be true?
The plot thickens in Episode 2's finale moments. Could Kamran be hiding a secret? Warning! Spoilers ahead.
At the end of Ms. Marvel Episode 2, Kamala is on the run from the authorities. Suddenly, she's saved by Kamran, who pulls up in his car and reveals he's taking her to meet a relative of his who's been waiting long to meet her.
So what's the deal with his character? Could he be a Marvel villain in disguise? Here's what you need to know, and how it might connect to how the MCU is retconning the existence of Inhumans.
Who is Kamran in the Marvel comics?
In the comics, Terrigen Mist, a mutagenic substance that can super-evolve humans and alter their biology, covers Earth one fateful night. Both Kamala and Kamran are affected by the vapor. Kamran is soon able to emit a glowing bioluminescent and biokinetic energy, which he can charge up in his body and use to make objects explode. Kamala's stretchy powers in the comics also derive from Terrigen Mist.
The Disney+ show scraps Terrigenesis as the source of Kamala's powers, opting instead to go for the conspicuously Shang-Chi-looking bangles as the cause of her cosmic skills. However, the show may have kept Kamran's Nuhuman origins the same so as to finally re-integrate Inhumans into the MCU after the Inhumans series on ABC catastrophically bombed in 2017.
In the comics (and in the TV series thus far) Kamran woos and charms Kamala with their shared cultural and ethnic backgrounds, his smarts and looks, and their shared passion for World of Battlecraft and Bollywood movies. Kamala is quickly won over and allies with Kamran — until he turns on her and attempts to recruit her onto a team led by Inhuman crime boss Lineage (aka Gordon Nobili).
Bruno helps Kamala escape Lineage's clutches, but her brother Aamir (Saagar Shaikh on the show) is kidnapped by Kamran, Lineage, and the electricity-manipulating Inhuman villain Kaboom. Aamir is later forcibly exposed to Terrigen Mist. By the end of the whole ordeal, Kamala has successfully gotten Kamran off of her back, but she loses her brother to the opposition.
Inhumans in Ms. Marvel?
Given that Ms. Marvel is focused on Kamala's origin story and her coming-of-age as the MCU's first Muslim Pakistani-American teen superhero, it was probably wise to avoid the Inhumans connections. With the show currently billed as a one-time miniseries, there may not be time to pack in loads of Inhumans characters and lore — especially since the show also needs to segue into The Marvels.
It seems likely, then, that if Kamran turns out to be a duplicitous villain in Ms. Marvel as he is in the comics, his powers may also be adapted to ignore Terrigenesis. For now, Kamran remains innocent-enough eye candy for Kamala— but don't say we didn't warn you when he blows up our girl's heart.
Ms. Marvel debuts new episodes every Wednesday on Disney+.