How Ms. Marvel creators "convinced" Kevin Feige to ditch the MCU's worst trend
What does the Marvel Universe look like through the eyes of a teenage superfan? The creators of Ms. Marvel are finding out.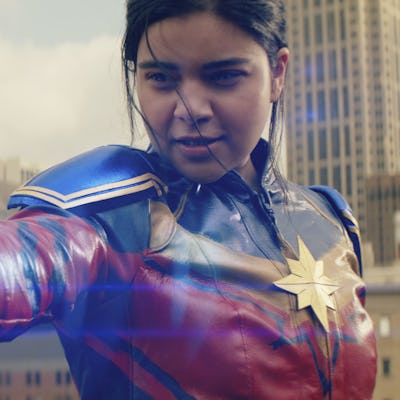 Marvel Studios
Unlike most superhero origins, there isn't a single incident that created the Marvel Cinematic Universe's newest hero, Kamala Khan, also known as Ms. Marvel.
Instead, it was a lifetime of experiences co-creator Sana Amanat collected from growing up as a second-generation Pakistani Muslim in America.
On Zoom, Amanat remembers one story in particular: Going to prom. "I wasn't allowed to go to prom with a date," Amanat tells Inverse. "My mom was like, 'How dare you think you're going to go with a boy? Absolutely not.'"
For reasons that still baffle the now 39-year-old Marvel Director of Content and Character Development, her school required dates. "I split a ticket with someone else and went alone," Amanat says.
That wasn't the only hurdle for Amanat. "I couldn't find a dress that was conservative enough. I found some material and just kind of wrapped it around my body and made a skirt of it, pinned it. I made a very homemade dress and went to prom."
Despite her craftsmanship, the experience only reminded Amanat of the entrenched ways American culture other-izes those who do not neatly fit into its molds. "I had to constantly live two different lives," she says, "And trying to navigate it. Like, Why can't I go to prom with a boy? Why do I need to wrap this thing around my body?"
First and second-generation Americans perform a balancing act of respecting and embracing their culture that is key to understanding the Marvel Cinematic Universe's first Muslim superhero — and her boundless, colorful imagination. Ms. Marvel celebrates Kamala's fantastical inner life in a way that pushes the boundaries of her culture's expectations while rebelling against the gray-hued color tones and dark visual language that has come to define the MCU.
"From there came this idea of Kamala," says Amanat.
Introducing Kamala Khan
On June 8, Ms. Marvel premieres on Disney+, the next saga set in the MCU. Based on the Ms. Marvel comics launched in 2014 with writer G. Willow Wilson and artist Adrian Alphona, the show follows New Jersey teenager Kamala Khan (Iman Vellani), an Avengers fan who idolizes Carol Danvers aka "Captain Marvel" (played in the films by Brie Larson). After receiving bracelets from a distant relative in Pakistan, Kamala develops cosmic powers of her own.
"Outside of her navigating being Muslim and Pakistani, she is also a big nerd," adds Amanat, whose chats with fellow editor Stephen Wacker circa 2013 led to Kamala's creation at Marvel.
"She's someone obsessed with big stories and heroes and lives in these fantasies. Her mother doesn't understand her being a nerd, and people out in the world don't understand her being Muslim. She is on this journey to understand all these aspects of herself," Amanat says.
"It's integrated into her life because that's our life."
Bisha K. Ali serves as head writer of Ms. Marvel, along with Adil El Arbi and Bilall Fallah (Bad Boys for Life) as directors and producers. All cite inspirations ranging from American teen comedies — namely movies by John Hughes and films like Lady Bird and Booksmart — and their lived experiences within the Pakistani or Muslim diasporas.
"We grew up with American high school movies," says El Arbi, who was raised in Belgium (as was his filmmaking partner). "John Hughes is a major inspiration, also Saved by the Bell and Boy Meets World."
"Those American references feel like 'standard' American life," Bisha K. Ali, who grew up in the UK, tells Inverse. "That is what Kamala is experiencing, things that are normal to her, like going to mosque or celebrations. It's integrated into her life because that's our life. We're coming from a place of inherent knowledge of how this would look and feel. Because we know what our lives look like."
Taking the MCU to new heights
More than any other MCU project, including the cerebral thriller Moon Knight, Ms. Marvel is teeming with Kamala's imagination. It's a far cry from the muted grays that frequently make up the look and feel of almost every Marvel Studios movie or TV series. Throughout Ms. Marvel, everything from Kamala's cosplay ideas to her glee over boy crushes spill into the frame as expressionistic visuals.
Some of these moments are rendered in VFX. Others are tricks pulled off practically on camera. Street art, neon restaurant signs, and even the Khan family living room transform into windows into Kamala's youthful gaze.
"Every decision goes back to her character and who she is," Ali tells Inverse. "We're constantly in her POV, in her fantasy land, in her perception of others and of herself — all things integral to her psychology. We love this character so much; we're happy to build from that root outward."
"We didn't think Kevin Feige would go for it."
Both Ali and the directors say there are also practical reasons for the show's playfulness.
"It does simple fixes," Ali says, "I don't want characters looking at their phones all the time. I'm not interested in seeing a screen and reading text. And I feel emotionally impacted when someone sends me a text, so how do we translate that to screen?"
But the goal has always been to translate the energy of the comic book Ms. Marvel into a new medium. The directors say they struggled to figure out how until they saw another Marvel movie about a teenage hero, 2018's Spider-Man: Into the Spider-Verse.
"The animation was not present in the script or in concepts," says El Arbi. "We loved the comic books — the colors, the vibrancy. We wanted to convey her dream world on a visual level. When we watched Into the Spider-Verse, we were just imagining, 'What would it be like to have a live-action version of that?' It just seems appropriate to use that style for the show."
In 1968, the character Carol Danvers was the first to go by the name "Ms. Marvel," until she became "Captain Marvel" in 2012. In 2019, her comics became the movie Captain Marvel starring Brie Larson.

Marvel Comics
In 2014, Kamala Khan took over Carol's abandoned mantle to become the new "Ms. Marvel," and the first Muslim-American superhero to lead her own comic book.

Marvel Comics
El Arbi says they hesitated to bring a riff of Into the Spider-Verse's kinetic style to the grounded MCU. They were especially unsure how Marvel boss Kevin Feige would react.
"We were a bit nervous," El Arbi says, "We didn't think Kevin Feige would go for it because it's so different. We did a whole presentation and explained why it was important to see the world through her eyes, why we needed stop motion animation and murals coming to life. Surprisingly, Kevin went for it. He was convinced and loved it. He said, 'It's true to the character, so go for it.' That was a real pleasure and privilege to be allowed."
But just because the team was allowed to play doesn't mean they instantly knew how. In cases like the aforementioned text messages, which appear as physical signs outside an apartment building, there was a lot of planning and coordinating starting on the page.
"Even thinking what the text messages will be," explains El Arbi, "You can't do too many texts. You need it to be something realistic and appropriate, and tells the story. And be able to do it in the environment. It was a fun brainstorm."
Kamala Khan has a lot of labels to her name. She's Pakistani, she's Muslim, she's American, and she's a teenager. For those behind the series, there's only one label that ultimately defines everything about her and how she sees the world: She's a fan.
"She's so full of joy, this bubbly energy that makes her approach everything with passion," Ali muses. "I think that's her legacy going forward. She is a standard for fans of the MCU, for people who grew up with the Marvel Cinematic Universe in their bones. Kamala Khan is a fan of the Avengers. That part of her is never going to change. That's what makes her so special and unique and so precious to me. Hopefully to all the fans too."
"She looks at the world with these big eyes of wonder," says Amanat. "That's what I love about these animated bits. You're seeing through Kamala's eyes. It's bright. It's inspiring; it's funny. She has this innate desire for things to look brighter. I think that is very heroic."
Ms. Marvel will begin streaming on Disney+ on June 8.