Ms. Marvel is already the MCU's best Disney+ show for one glorious reason
Ms. Marvel works as both a superhero TV show and a coming-of-age story.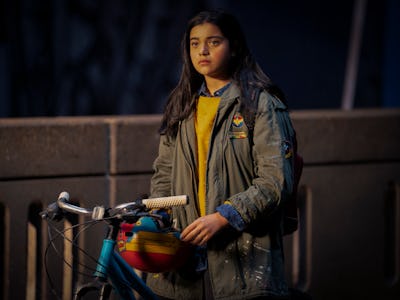 Ms. Marvel is on track to be Marvel Studios' best Disney+ original series.
Two episodes into its debut season, the live-action superhero show has already delivered some of the most technically impressive, visually mesmerizing, and genuinely playful moments in the history of the MCU. From the show's inventive methods of visualizing text conversations to the way it showcases its heroine's infectious imagination, Ms. Marvel has quickly established itself as the MCU's most graphically accomplished series.
But Ms. Marvel's success extends beyond just its unique visual style. Across its first two episodes, the series has become one of the rare MCU titles that feels like it could work even if its characters didn't have superpowers.
Ms. Marvel stands on its own
In Ms. Marvel Episode 2, there's a moment when Kamala Khan (Iman Vellani) comes home after sharing a flirtatious moment with the handsome Kamran (Rish Shah). Mirroring her romantic elation, Kamala's entire house suddenly becomes bathed in pink and purple light as she dances through her living room and kitchen, lip-syncing to the Ronettes' "Be My Baby."
Not only is the sequence experimental and playful, it's also a direct homage to the famous "Be My Baby" scene from Dirty Dancing. Vellani's joyful lip-sync routine also calls to mind Elisabeth Shue's bedroom dance from Adventures in Babysitting. Combined, the knowing nods to those classic '80s teen flicks help place Ms. Marvel in the same genre as them.
The dance scene is also one of the few times when a Marvel Studios title has paid homage to a film or show that doesn't exist within the MCU. Marvel's desire to distance itself from the rest of Hollywood history has always been a bit frustrating, and the fact that Ms. Marvel is so willing to break from that tradition only makes it feel more unique.
That said, Ms. Marvel's love of classic coming-of-age comedies and romances hasn't stopped it from packing itself to the brim with MCU references. From the Easter egg-heavy AvengersCon sequence to a lengthy conversation about Kumail Nanjiani's Kingo, Ms. Marvel has firmly placed itself within the MCU. But unlike previous Marvel titles, Ms. Marvel understands that it can pay homage to the MCU without having to sacrifice its own identity.
Ms. Marvel succeeds at being both an MCU origin story and a coming-of-age dramedy, which is something that can't be said for many of the MCU's past entries. Not since 2014's Captain America: The Winter Soldier, which managed to stand on its own as a spy thriller, has a MCU title felt so perfectly realized.
Ms. Marvel is also Marvel's most well-made TV series to date. The show's first two episodes don't boast any of the wonky greenscreen shots or unfinished visual effects that have become commonplace in the MCU. There's yet to be a moment where it feels like Ms. Marvel was rushed out the door to meet Marvel's rigid scheduling demands, which is, unfortunately, a refreshing change of pace.
The Inverse Analysis — In a 2019 video, Logan director James Mangold said, "I don't really believe there is a genre [known as the] 'comic book movie.' … Comic book isn't a direction. That's like saying, 'I'm making a novel movie.' It just says what the story came from. It doesn't tell you the form. In fact, I think that's the problem, for me, with a lot of comic book movies is that they don't have an identity. They're just about the costumes and the gear."
Mangold, of course, turned 2013's The Wolverine into a quasi-samurai movie, and 2017's Logan ended up being indebted to Westerns like Shane and Unforgiven. It's easy to see why he believes most comic book movies and TV shows need to inhabit a specific genre in order to feel unique. When Mangold says that superhero movies and shows shouldn't just rely on the recognizability of their characters, it's hard to disagree with him.
Ms. Marvel isn't making that mistake. The series is dutifully bringing Kamala Khan's superhero origin story to life, but it's also filtering her superpowered transformation through the aesthetic and tone of a high school comedy. It's gone out of its way up to cement its status as a legitimate coming-of-age series that also fits seamlessly within the MCU.
Ms. Marvel is streaming now on Disney+.