Ms. Marvel Episode 1 post-credits scene features a surprise MCU cameo
Kamala Khan is already attracting some unwanted attention.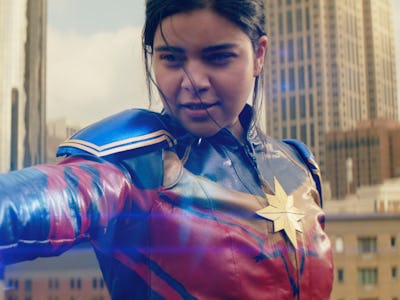 The first episode of Ms. Marvel takes its time getting to Kamala Khan's (Iman Vellani) superhero transformation. The majority of the premiere is devoted to setting up and exploring Kamala's family and social life, and the episode only delivers its first superpowered moment in its final act. However, Kamala's use of her superpowers at AvengerCon is destructive enough to earn her some unexpected attention.
The post-credits scene of Ms. Marvel Episode 1 even reveals that Kamala's scene-stealing moment has landed her on the radar of an official who will be very familiar to devoted Marvel Cinematic Universe fans.
Major spoilers ahead.
The credits sequence for Ms. Marvel Episode 1 kicks in just after Kamala Khan takes a moment in her room to admire her new powers, which she refers to as "cosmic." However, the episode follows up Kamala's quiet, awestruck moment with one brief but notable post-credits scene.
The scene begins with a Damage Control agent named Sadie Deever (Alysia Reiner) watching a video of Kamala's game-changing AvengerCon moment on her phone. She shows the video to her fellow agent, P. Cleary (Arian Moayed), who tells Deever to "bring her in." While the scene marks Deever's first appearance in the MCU, Marvel viewers have already spent some time with Moayed's P. Cleary.
The latter agent made his MCU debut last year in Spider-Man: No Way Home, which included a sequence where Peter Parker (Tom Holland) and his loved ones are all arrested by Cleary and other members of his organization. Throughout the scene, Cleary displays a total lack of empathy for Peter's situation and proves himself to be a surprisingly shrewd and ruthless agent.
So what does Cleary's presence in Ms. Marvel mean for Kamala Khan?
The fact that Kamala is already attracting the attention of Damage Control is not good, especially since it seems inevitable that she'll only continue to grow in fame and popularity as she uses her powers. That will make Cleary, Deever, and the rest of Damage Control anxious to track Kamala down and possibly cut her superhero transformation short.
However, while Cleary certainly hasn't been depicted as a stand-up guy, it's possible he'll end up existing in more of a moral gray zone in Ms. Marvel than he did in No Way Home. He has the potential to be either a major adversary for Kamala Khan, or an unexpected ally.
We'll just have to wait to see exactly what kind of role he ends up serving in the Disney+ series.
The Inverse Analysis — The Ms. Marvel premiere isn't too interested in setting up any of the future threats that Kamala Khan will have to face throughout the show's remaining five episodes. That doesn't keep it from being one of the best first episodes of any of Marvel's Disney+ shows to date.
However, the episode's total disinterest in setting up Kamala's future enemies also makes predicting the overall nature of Damage Control's role in Ms. Marvel difficult. If there's anything that Episode 1's post-credits scene does make clear, it's that Kamala Khan's days of living as an anonymous no one are about to come to a quick end.
Ms. Marvel is streaming now on Disney+.