A Major Marvel Crossover Might Happen Sooner Than You Think
Nick Fury may meet his match.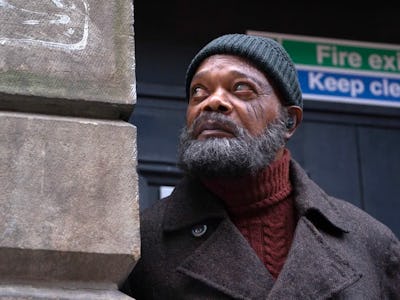 Gareth Gatrell/Marvel Studios
Marvel's Cinematic Universe has been expanding at a steady rate, introducing heroes and villains so quickly that it's been difficult to keep tabs on them all. The MCU boasts a huge roster of characters that can team up or face off, but until recently, the only group really enjoying the spotlight was the Avengers.
That finally seems to be changing as the MCU settles into Phase 5. The Marvels will bring together three slightly-disparate heroes for one sprawling adventure; the same can be said for Captain America: Brave New World, which feels like an Incredible Hulk reunion in disguise. Perhaps most importantly, Thunderbolts will unite our favorite anti-heroes under one banner.
Thunderbolts is shaping up to be the other side of the Avengers' coin, given the film's slow and steady build-up across multiple Marvel projects. There's also the little matter of Contessa Valentina Allegra de Fontaine (Julia Louis-Dreyfus), who feels like a natural foil to Samuel L. Jackson's Nick Fury. Could Marvel be gearing up for a meeting between the two characters? Nothing's officially in the works, but according to Jackson himself, he and Louis-Dreyfus have spoken about it.
Jackson and Louis-Dreyfus have yet to share a MCU scene, but Louis-Dreyfus seems keen to face off.
"I've talked to her about it already," Jackson recently told TheWrap. "She was sitting right behind me at the Oscars, so she kept poking me and [saying] 'We're gonna fight! We're gonna fight!' So I guess she already knows something I don't know. Or she's just starting something anyway."
A fight would certainly be warranted, given Fury's long history with the Contessa in Marvel Comics. She was first introduced in a Nick Fury/Captain America crossover way back in 1967, and later joined S.H.I.E.L.D. under Fury's watchful eye. During her S.H.I.E.L.D. tenure, the Contessa rose the ranks and eventually led an all-female team called Femme Force. She and Fury even dated, but their relationship was tumultuous, to say the least. Fury once fought Cap just for flirting with the Contessa.
Despite their differences, Fury and the Contessa did genuinely care for each other, but the Contessa's ever-shifting allegiances did the couple in. In Jonathan Hickman and Brian Michael Bendis' Secret Warriors, the Contessa revealed that she's actually a Hydra sleeper agent. After breaking things off with Fury, she took on the mantle of Madame Hydra. She's not been seen in the comics since, but there's plenty of history between these two characters that the MCU could adapt for the screen.
Though we still know very little about the Contessa's allegiances in the MCU, Black Panther: Wakanda Forever also gave us a little peak into her former marriage to Everett Ross (Martin Freeman) and her future as CIA director. It makes sense that she and Fury would eventually cross paths, but would making them jilted lovers just feel like more of the same for a character we still know so little about? Hopefully Marvel Studios can find a way to bring these two crazy kids together; given the playful off-screen rivalry building between Jackson and Louis-Dreyfus, their on-screen meeting could be a lot of fun.