Marvel May Have Quietly Killed Its Most Intriguing New Show
A WandaVision spinoff may be off the schedule, whittling down the MCU TV lineup even more.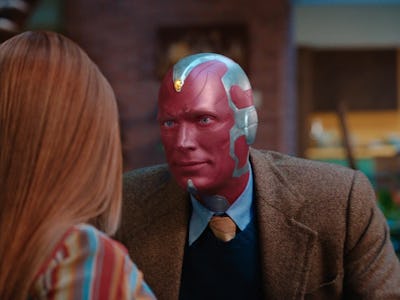 Marvel Studios
It's been three years since the beginning of the MCU TV universe. In the time of Secret Invasion and Loki Season 2, it can be hard to remember how truly revolutionary those first few shows were. WandaVision shook the entire Marvel Cinematic Universe with its use of the television medium, essentially blazing a trail into the medium while simultaneously deconstructing it.
It was no surprise when a number of spinoffs were reported to be in development later: Agatha: Darkhold Diaries (previously called Agatha: House of Harkness and Agatha: Coven of Chaos) was reported by Variety to be in development in October 2021.
In October 2022, Deadline reported it would be joined by a Vision-focused spinoff titled Vision Quest. However, this spinoff may now be in danger.
WandaVision head writer Jac Schaeffer, who has an overall deal with Disney+, was supposed to write on both these series, but the upcoming credits on her Writers' Guild page now lists only Agatha: Darkhold Diaries. Other writers also have the title erased from their lists as well. Inverse reached out to Disney for comment but did not receive a reply.
There's never been official word from Marvel that this series was in development, and there was no timeline for its release, so this may be a case of easy come, easy go. But it's a huge loss for the MCU, who never truly got the narrative he deserved. Wanda dealt with the loss of her children in Doctor Strange in the Multiverse of Madness, but Vision, now reactivated as White Vision with all the same memories, has yet to be followed up on.
This, hopefully, would be what we would have seen in Vision Quest. Will this series still find the same second life Vision did? Perhaps Agatha: Darkhold Diaries will be how Vision finds his ultimate end — though Paul Bettany isn't officially involved with the show, if WandaVision taught us anything, it's that surprise cameos are to be expected.
WandaVision is now streaming on Disney+.