Mandalorian Episode 6 Runtime Reveals an Encouraging New Normal
After weeks of turmoil, it looks like The Mandalorian Season 3 has finally settled on what a "standard" runtime looks like.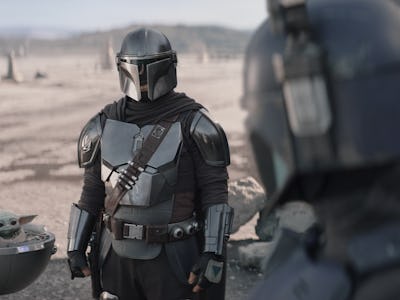 The Mandalorian Season 3 has been all over the galaxy, but its runtime has been all over the map. There were record-long episodes reaching over an hour after credits and record-short episodes that just reached a half hour. But in the back half of the season, it looks like things are settling into a pattern, and with that comes with a solidified runtime.
A leak into the runtime for Episode 6 confirms that theory — here's what it means for the rest of the series.
Episode 5, which followed The Armorer's Mandalorian covert as they stopped being so covert and helped Greef Karga on Nevarro, clocked in at 41 minutes. It was the ideal runtime for a series like this — close to the 44-minute runtime that became customary for hour-long network dramas (before commercials.)
Leaker @Cryptic4KQual, who has accurately predicted the runtime of every Mandalorian episode so far, reports that the runtime of Episode 6 is 44 minutes, 14 seconds long, making it even more similar to the network shows of yore.
The Mandalorian has had trouble finding its footing, but the almost nostalgic tone of Episode 5, the way it brought back a major villain, and the just-right runtime are all great signs for the future. Now we know the 40-something runtime isn't going away: It may just be the new normal for the series.
The runtime isn't the only part of Episode 6 with a proven record. The episode will be directed by Bryce Dallas Howard, the nepo-baby-turned-fan-favorite who directed such beloved episodes as Season 2's "The Heiress," which introduced Bo-Katan Kryze. Knowing how Season 3, especially Episode 5, has dedicated time to Bo-Katan's story, it's likely the episode will be centered around her. After all, who better to direct her story than another impressive redhead?
Though it's safe to say the first half of The Mandalorian Season 3 has been hit or miss, this is a great sign that things are looking up. Hopefully, the tonal and length whiplash of the first four episodes will finally be settled and the series will right its course.
The Mandalorian Season 3 is now streaming on Disney+.