Who is Victor Timely? Loki Producer Reveals the Surprising Origin of the Kang Variant
Victor was meant to be more timely.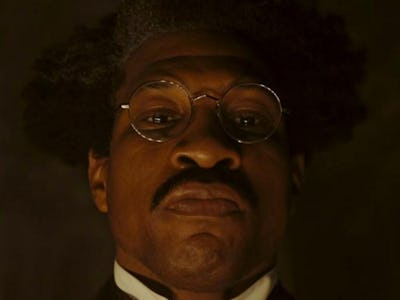 Marvel Studios
Warning! Spoilers for Loki Episode 3 follow.
The reveal of Victor Timely was a huge shock to the already-chaotic events of Loki. Although we've met two Kang variants in Loki Season 1 and Ant-Man and the Wasp: Quantumania, Timely is unlike any variant we've met before. Starting from humble beginnings, he goes on to become an up-and-coming inventor, with a little help from Ravonna and Miss Minutes.
But this character isn't a new idea for Loki. Victor Timely, whose quiet, stuttering demeanor and almost anti-Kang behavior are a surprising variation of the Kang we know, was meant to be introduced much earlier. But after being considered as a character in Season 1, he was moved to Season 2's more focused storyline, according to Loki Season 2 producer Kevin Wright.
"[Timely] was in my original Season 1 pitch, and we tried to work him into Season 1 a little bit, and it was just too much," Wright tells Inverse. "We just could never get there, it was too much storytelling."
But Timely's introduction actually works great in Loki's second season as a way to subvert the massive cliffhanger of a Kang invasion. "You have this grave warning at the end of Season 1: war is coming, and you think that's going to be some sci-fi villain from the future," Wright says. "The next version in our story that you would see pop up is just this eccentric, but slightly quiet and introverted inventor from the past."
It's exactly what Loki fans have come to expect from the show — the unexpected. "It's a fun zig for a show. That's what we like to do, we zig when other people would zag," Wright says.
In Loki Episode 3, Victor Timely is introduced as the crux to Ravonna and Miss Minutes' plan to bring back He Who Remains. Following instructions left by He Who Remains, they mess with his timeline — slipping him a copy of the TVA's manual, and accelerating his progress as an inventor beyond his years. But Victor Timely still doesn't quite resemble the all-knowing genius that Kang is known to be. He's a stuttering, eccentric showman whose inventions don't totally work. And soon, we learn, he's a bit of a con man.
Such a different Kang variant offered a great example to show another facet in other characters' reactions to a new villain. "It offered us great character conflict. He clearly isn't the person that you're expecting. How's Loki going to respond to that? How's Sylvie going to respond to that? How's the TVA going to respond to that?"
How will Timely fit into the greater picture of Loki? Will he be an agent of chaos like He Who Remains, a villain like Kang, or something in between? It looks like Loki and Sylvie are just as curious about him as we are.
Loki is now streaming on Disney+.