Loki Season 2 Release Date Might be Later Than You Think
We might have to wait a little longer for more Loki.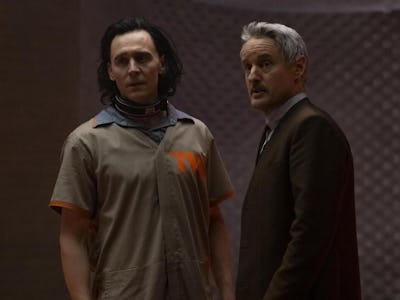 Marvel Studios
Marvel's Cinematic Universe is now knee-deep in some serious interdimensional conflict. Jonathan Majors' Kang the Conqueror made big waves in Ant-Man and the Wasp: Quantumania, and though he appeared to be defeated by the titular duo, he will, of course, return very soon. So will the innumerable variants teased in the film. Quantumania introduced a very specific Kang variant in its post-credits stinger, one that undoubtedly got fans excited for the second season of Loki. Unfortunately, no one knows for sure when the second season will debut — especially now that the projected release date has been quietly pushed back.
According to The Direct, Disney+ recently made a change to their slate of upcoming originals. Loki Season 2 was formerly poised for a Summer 2023 release, but on the Disney+ Originals site, that's now been switched to "Coming Soon."
Loki's Season 2 would have been the first Marvel series to drop this year, before Ironheart, What If...? Season 2, Echo, and Agatha: Coven of Chaos. Marvel Studios President Kevin Feige officially announced this official line-up at San Diego Comic-Con in 2022. Release dates were still pretty nebulous at that time, but with Loki having wrapped filming in October 2022, it was easy to assume that production was right on schedule.
Of course, there will always be other variables at play. Recent franchise fatigue and a dwindling interest in the MCU seem to have forced Feige and co. to reevaluate their strategy for Phases 5 and 6 — at least where television is concerned. According to The Hollywood Reporter, Loki and Secret Invasion are now the only Marvel series releasing in 2023. That's but a fraction of the shows that dropped in 2021 and 2022, but still it's nice that Marvel seems to be scaling back their efforts this year. After recent backlash against subpar visual effects and less-than-diligent storytelling, it makes sense that they'd be opting for quality over quantity.
Whatever's going on behind the scenes, these updates have pushed Loki into a new undisclosed timeframe. There's a chance the series will still release this year: Fall 2023, at the earliest, in the same slot that She-Hulk: Attorney at Law occupied in 2022. There's also the matter of the Star Wars series premiering in 2023, like Ahsoka and Skeleton Crew. Both shows have yet to secure their own release dates, so it seems like everything is up in the air. It's hard to play the waiting game after getting used to a revolving door of films and shows, but as long as Loki does get his rematch with Kang in season 2, the wait will totally be worth it.