Ant-Man: Quantumania Post-Credits Scene Explained: What [SPOILERS] Means for Loki Season 2
Once again, Jonathan Majors makes a surprise appearance at the end of a Marvel story.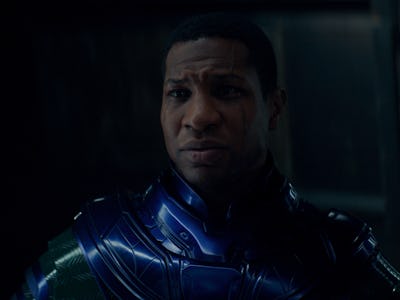 Marvel Studios
Sometimes, seeing the future means diving into the past. In the case of the Marvel Cinematic Universe, Ant-Man and the Wasp: Quantumania is taking things back. Way back.
The latest movie in the MCU brings to the forefront Kang the Conqueror, the next big bad for the Marvel Universe. Actor Jonathan Majors returns to play a new version of "He Who Remains," a role that Majors first played in his surprise appearance in the finale of Loki.
As always with Marvel, Quantumania features a glimpse into the future with an additional scene that bridges nicely into something else. This time however, it isn't Ant-Man 4 or even the next Avengers movie that Quantumania tries to hype fans. Instead, it's a new season of a Marvel show on Disney+. (Is this the first time that a Marvel movie hyped a TV show?)
But what show is getting the Marvel movie bump? And just what exactly is being set up? Read on for spoilers on the buzzy post-credits of Ant-Man and the Wasp: Quantumania.
Warning: Spoilers for Ant-Man and the Wasp: Quantumania ahead.
In the post-credits scene of Quantumania, the MCU turns back the clock to 1901. Taking the stage in front of a crowd is Victor Timely, with Jonathan Majors again as Kang with a new look as the 20th century showman/inventor.
Hidden in this crowd are Loki (Tom Hiddleston) and Mobius (Owen Wilson). While Mobius is entertained by Victor and doesn't register him as a threat, Loki — remembering his encounter with He Who Remains — shows visible distress. He tries to Mobius that this "Victor Timely" is actually a very dangerous man. The scene ends with text that reads, "Kang Will Return."
Who is Victor Timely?
As Quantumania previously teased in its mid-credits scene, there are many Kangs out there. That's what makes him such a threat to all of time and space: There's infinity versions of him, and you can't ever be sure if you've actually defeated him.
Victor Timely is yet another one of Kang's many egos from the comics. After suffering defeat by the Avengers, Kang travels back to 1901 and disguises himself as a brilliant human inventor and rival to figures like Thomas Edison and Henry Ford. Kang adopts the name "Victor Timely" and establishes the town of Timely in Wisconsin, where Kang acts as both town mayor and a local industrialist.
Just as he did in Egypt to become Pharoah Rama-Tut, Kang uses his Victor Timely disguise to build Timely Industries and amass power and influence over a more primitive society. Through Timely Industries, Kang builds the first Human Torch android and plants the seeds for innovations in robotics that would pay off when Kang takes control of the world's Sentinel machines in the Avengers storyline "Kang Dynasty." So, Loki has just cause to be worried.
What is still unclear is if Victor Timely is Kang in disguise — even Ant-Man isn't sure that Kang has been totally dealt with — or if Victor Timely is a variant. Either scenario is not good for the MCU, as Kang is here to stay no matter what.
As for Loki, Quantumania confirms Mobius and Loki once again team up, and maybe that Mobius remembers Loki in Season 1. Remember: The series ended with a reset of the timeline, resulting in Mobius (and maybe the entire MCU) forgetting Loki existed. Thankfully, Quantumania shows you can't keep good friends separate for long no matter how many timelines are destroyed.
Ant-Man and the Wasp: Quantumania is now playing in theaters.