Marvel Just Explained a Lingering Cliffhanger From Loki's Season 1 Finale
The secret is in the sauce, or at least where the sauce is sold.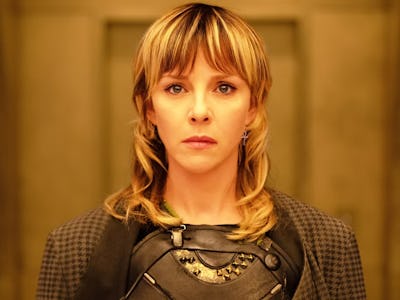 Marvel Studios
Loki Season 2 isn't like any other Marvel series. It quite literally exists outside of space and time, exploring the twisted halls of the Time Variance Authority and the Citadel at the End of Time. That continues in Loki Season 2, which is trying to bring some of that strangeness to the real world.
In one of Marvel's more unusual marketing campaigns, Loki is coming to a fast-food restaurant near you, and in doing so, it reveals what happened to Sylvie after the events of Season 1. McDonald's has launched a new "As Featured In" ad series, which highlights movies and TV shows the brand has appeared in. Everything from Wong Kar Wai's Fallen Angels to The Office has been included, and Loki Season 2 is a centerpiece of the promotion.
Loki Season 2, which is being advertised on McDonald's sweet and sour sauce, is also the only property yet to be released. Because of that, the McDonald's campaign announcement contained some new clips of the season, including a glimpse of Sylvie in what looks to be a McDonald's in the 1980s.
In an article for Fast Company, Loki executive producer Kevin Wright described a moment with Sylvie actress Sophie Di Martino on the set of Season 1 that led to the scene.
"This character had been on a decades-long, maybe centuries-long revenge mission, and the classic trope of those stories is that it's all-consuming and she's not thinking about what comes next," Wright said. "Now she has this moment of opportunity, where is she going to go?" Apparently, Di Martino replied, "She'd probably be pretty hungry."
The article focuses on the marketing campaign, but it also helps clarify the timeline of this intriguing but confusing Sylvie reveal. "When we stayed in the view of character," Wright said, "This woman who went on the run as a child, had been running through time, a fugitive of time, living in apocalypses, never being able to relax or slow down, the novelty of walking into a 1980s McDonald's looked appealing."
So the Sylvie we see in McDonald's isn't another variant or part of a flashback. It's just Sylvie, on the run after destroying the Sacred Timeline and looking for the most nondescript place to hide. McDonald's just happens to be the perfect spot, from both a plot standpoint and (conveniently) a marketing standpoint.
Loki Season 2 premieres October 6 on Disney+.