Loki's Most Iconic Character Just Subverted a Creepy Sci-Fi Trope
AI... they're just like us!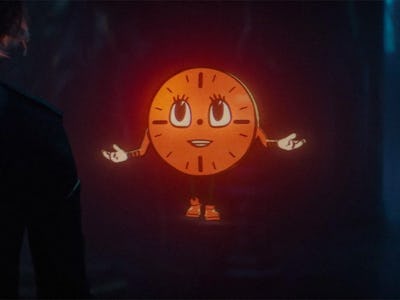 Marvel Studios
Don't let her wholesome persona fool you: Miss Minutes (voiced by Tara Strong) isn't nearly as quaint as she seems. Once a helpful presence keeping the Time Variance Authority afloat behind the scenes, Miss Minutes became a liaison between the God of Mischief (Tom Hiddleston) and his female variant, Sylvie (Sophia Di Martino), and her creator, He Who Remains, during the star-crossed pair's investigation of the inner workings of the TVA. You'd be forgiven for feeling just a little creeped out by her appearance at the end of Season 1, which, tellingly, was framed exactly like a jumpscare.
The artificial intelligence gets to chew even more scenery in the latest episode of Loki. Episode 3 follows Miss Minutes as she tries to fill the void that He Who Remains left behind in Season 1. She's enlisted TVA boss Ravonna Renslayer (Gugu Mbatha-Raw) on the quest for "free will," but their search gets a lot more complicated with the introduction of a familiar face. Spoilers ahead for Loki Episode 3!
Loki Episode 3 finds Miss Minutes and Ravonna in 20th century Chicago. They're on the hunt for a suitable replacement for He Who Remains, and they seem to find it in Kang variant Victor Timely (Jonathan Majors). Thanks to some temporal meddling, Miss Minutes and Ravonna groom Victor into a brilliant scientist. Though the technology of the time hinders most of his inventions from working as they should, Ravonna promises to fix that once she makes herself known to Timely. Their chemistry is pretty palpable from jump... much to Miss Minutes' chagrin.
They ultimately strike a tentative deal with the inventor, but Miss Minutes makes quick work of pushing Ravonna out and taking sole credit for their work. She clearly sees a lot of He Who Remains in Timely; given the fact that the former created her, it makes sense that she'd want to get him back in some way. But Miss Minutes is just one of Loki's many characters conflating Timely with his deceased variant, and that makes things really awkward when she confesses romantic feelings for her creator.
We always knew that Miss Minutes was impossibly advanced for an AI, but it's surprising to see her emulate more "human" qualities... especially when they manifest in the form of a crush. She muses about long chess matches with He Who Remains, and asks Timely why he never had the foresight to give her a body. It's an eyebrow-raising conversation, one that flips a popular science-fiction trope right on its head.
When AI Fall in Love
AI storylines have always been a staple of sci-fi, and more often than not, these sentient creations do yearn for human experiences. It's rare to see them earnestly leaning into the sensual aspects of humanity, though. Usually, it's the other way around: Weird Science sees two nerds creating the girl of their dreams in a science experiment. It hasn't aged well since, but it's as good an example of a modern Pygmalion as any. The mad scientist falling in love with his own invention is an ironclad trope for the genre, though modern sci-fi like Ex Machina are beginning to address the inherent ickiness of it.
Miss Minutes offers an equally interesting counter to the modern myth. Her love was unrequited with He Who Remains — Loki Episode 1 teased his stronger connection with Renslayer, which explains all the jealousy — and it seems to be going the same way with Timely. It sets her up to become an AI scorned in the future, and it'll be interesting to see how that could affect Loki and Mobius' plans to save the TVA in future episodes.
Will she end up with the body she's always wanted? Will Timely (or any other Kang variant) take notice of her then? Either way, Miss Minutes is quickly becoming one of Loki's most compelling characters. She's much more than a guard dog or custodian. She's got real emotions and real desires — and the longer they go ignored, the more dangerous she gets.
Loki is currently streaming on Disney+.