Lucasfilm Finally Reveals Its Vision for the Future of Star Wars
To understand the future, we must visit the past.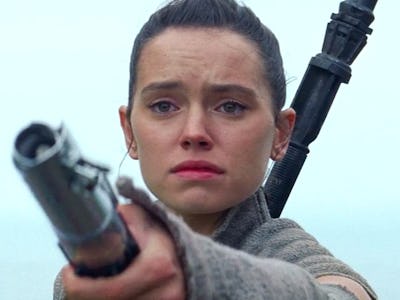 Lucasfilm
While the Skywalker Saga may be over, the end of Star Wars is nowhere in sight. Its television offerings, from The Mandalorian to Ahsoka, are filling out an entire era on the timeline, but the franchise isn't stopping there. At Star Wars Celebration 2023, we learned just what's to come for Star Wars cinema: three new movies.
One, directed by Dave Filoni, will be the culmination of the "Mando-verse," but the other two exist on opposite sides of the Star Wars timeline. Dawn of the Jedi, directed by James Mangold, will explore the birth of the ancient order, while an untitled film directed by Ms. Marvel's Sharmeen Obaid-Chinoy will follow Rey as she rebuilds the Jedi after the events of Rise of Skywalker. But a new quote from Lucasfilm President Kathleen Kennedy suggests these two films may have more in common than we think.
Kennedy spoke to GamesRadar about these upcoming movies, explaining how they build on what George Lucas established in the Skywalker Saga. Crucially, Mangold's Dawn of the Jedi will build on the Jedi lore Rey's movie is set to establish.
"I think it's a really nice compliment to what we're doing with moving into the future with Rey, and then understanding a bit more of where this all came from," she said. "Because it will be at the heart of creating the new Jedi Order, so to get a real sense of where that might have began with the dawn of the Jedi could be pretty cool."
This is encouraging news. At first, the three upcoming movies seemed to exist in their own worlds, separated by decades or even millennia. But if these two Jedi-focused movies are going to build on each other and give us a complete picture of the past and future of the Jedi Order, then the emotional core of the entire franchise will be strengthened. With these two films, and Filoni's movie tying the television universe together, it looks like Lucasfilm finally has a plan for what's ahead. Better late than never, right?