Star Wars Movie Delays Reveal a Frustrating Truth About Disney's Plans
If you're not sick of the Force yet, you might be soon.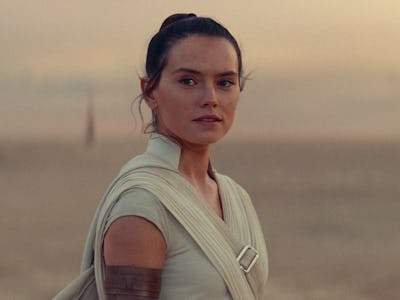 Lucasfilm
Good things come to those who wait, but if you're a Star Wars fan, you don't have much of a choice. The franchise has always spaced out its projects, and would often pause in-between theatrical projects for years (and sometimes decades).
Now there are three Star Wars movies on the slate: James Mangold's movie about the beginnings of the Jedi, Sharmeen Obaid-Chinoy's movie following Rey as she rebuilds the Jedi Order, and Dave Filoni's movie that will serve as the culmination of The Mandoverse. Unfortunately, we'll have to wait longer than first thought for these movies, and we may be a little underwhelmed when they finally arrive.
Variety reports that the next Star Wars film, originally slated to be released December 19, 2025, will now release May 22, 2026. Interestingly, this change was accompanied by a new project being added to the same year: December 18, 2026. A third movie is slated for December 17, 2027. We don't know which date is assigned to which movie, but we can assume they're for the only three Star Wars movies we currently know about.
Delays are understandable, and can even help build hype. But if these dates stay as they are, then the next era of Star Wars movies will arrive at a breakneck pace. Even when the sequel trilogy was premiering, there was a two-year break between movies. Two movies in 2026 and one in 2027 is unheard of... but don't start making plans just yet.
Disney's schedule is always in flux, especially for big franchises like Marvel and Star Wars, and especially during tumultuous times like the current writers' strike. But if these movies are so subject to change, is there a firm plan for the future of the Star Wars universe? This is a franchise where the release date for the high-profile series Andor was delayed the very same month it was scheduled. The Mandalorian Season 3 was also delayed dangerously close to release. Will these movies have the same fate?
Maybe these movies will eventually be spaced out to decrease the chance of Star Wars fatigue. But as it stands, this isn't a very reassuring update on the state of Lucasfilm and the amount of thought being put into shepherding Star Wars' enduring legacy. Even the most disappointing Star Wars movies were treated like major events; making future films just more slots on a crowded calendar takes away from what makes this franchise special.