Did James Gunn Just Remove a Beloved Actor From the DCU?
Gunn's plan for the new DC universe feels more confusing than ever before.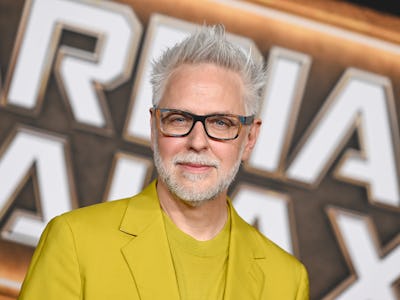 Gilbert Flores/Variety/Getty Images
Despite ambitious new plans for a cohesive universe, the future of the DCU feels more confusing than ever before. Aquaman and the Lost Kingdom will bring the final chapter of the DCEU to a close, but fans are still wondering how (or if) the old continuity will inform James Gunn and DC co-chair Peter Safran's new universe. Gunn has worked to clear the air wherever possible — and with the limitations of the WGA strike lifting, the writer-director is free to answer fans' burning questions about the DCU. That includes a months-old query on Threads, which asked Gunn to explain when the new canon officially begins.
"Nothing is canon until Creature Commandos next year — a sort of aperitif to the DCU," Gunn explained. That said, the new canon won't exactly be starting from the ground up: "Some actors will be playing characters they've played in other stories, and some plot points might be consistent with plot points from the dozens of films, shows, and animated projects that have come from DC in the past."
Gunn has been choose-y with details, but it seems he's even more shrewd about who will appear in the new continuity. "Xolo Maridueña will continue playing Blue Beetle in the DCU," Gunn wrote, "as Viola Davis will Amanda Waller, and John Cena will Peacemaker."
And ... that's it, apparently. Only a few actors seem to be reprising their roles in the new DCU; that includes Freddie Stroma, who stars alongside Cena in Peacemaker. While this may comfort some fans, it's opened up a hotbed of questions for others. To say nothing of the constant back-and-forth between Gunn and the fans, the filmmaker's comments aren't exactly putting anyone at ease — especially where a particular character is concerned.
As Gunn and Safran build out their universe with new versions of familiar heroes, one name has been noticeably absent from the conversation. There's been no mention of Harley Quinn, or any of the actors that portray the character, in the new DCU plan. And after Gunn's latest comments, which leave her out of the convo once again, you'd be forgiven for expecting the worst.
Gunn previously stated that the same actors could portray their respective characters across live-action, animation, and even video games, which doesn't bode well for DC's Harley Quinn series. Many worried that Margot Robbie would take over for Kaley Cuoco, who voices Harley in the show. But not even Robbie seems to be a part of Gunn's ambitious new universe — at least, not in the first chapter of the DCU, titled "Gods and Monsters."
Of course, the slate that Gunn unveiled in January is by no means a completed one, so there's still a chance that Harley could pop up in its second half. Given all that Robbie has brought to the role (not just as an actress, but as a producer), it'd be silly not to include her in future plans.
Maybe the finer details of her new partnership with DC are still being ironed out: after all, Robbie has had her hands full with Barbie lately. But until Hollywood studios and streamers strike a fair deal with SAG, Robbie's role as Harley will likely remain a mystery. We'll have to wait a bit longer for confirmation, but Gunn could just as well answer this burning question on Threads, to anyone that asks nicely.