Will James Gunn Cancel Harley Quinn Season 5? The Producers Are Just As Worried as We Are
"As far as we know, he likes the show. You know, he was in it."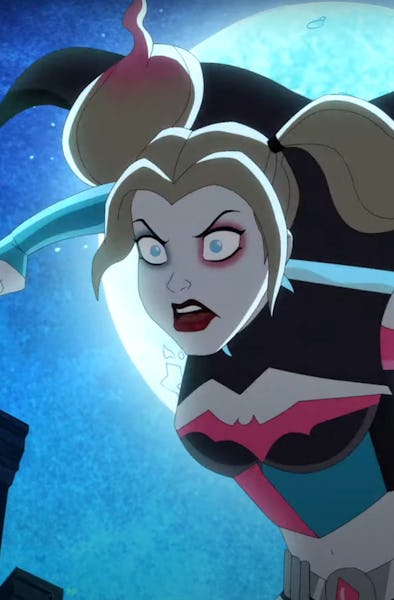 DC Entertainment
In the chaos of DC's Extended Universe, Harley Quinn emerged as one of the beleaguered studio's greatest triumphs. The R-rated animated series starring Kaley Cuoco never exactly overshadowed Margot Robbie's big-screen portrayal of Dr. Harleen Quinzel, but it built a rabid fanbase of its own thanks to a unique and irreverent take on not just Harley but the entire DC franchise.
However, now that the franchise is in the hands of DC's new movie boss (and vocal Margot Robbie fan) James Gunn, does Harley Quinn have a future beyond its upcoming fourth season? Even the show's producers aren't sure what to think.
"Well, we don't really know at this point," supervising producer Cecilia Aranovich Hamilton tells Inverse during a press event at Comic-Con 2023. "Nothing has been communicated directly to us. As far as we know, he likes the show. You know, he was in it. [laughs] So we assume he's a fan of the show. We don't know exactly where we're going to go from here."
Hamilton's nervous laughter aside, the fate of Harley Quinn seems more precarious than ever. While it was always a small miracle that this brilliant series found a home on HBO Max (now just Max), it likely doesn't fit into Gunn's plans for an interconnected universe where the same actors portray their characters across movies, cartoons, and even video games.
For his part, Gunn hasn't revealed much. In a March 18 tweet, he confirmed plans to work with Robbie again after directing The Suicide Squad but didn't specify when or for what. Then, on April 10, he shot down rumors of a Harley prequel series starring the actress. There's no mention of Quinn in the slate of new DC movies revealed so far, though that doesn't mean she couldn't turn up in Batman: The Brave and the Bold — or somewhere else.
Still, the team behind Harley Quinn is cautiously optimistic that they might get to Season 5.
"We hope that Season 4 is successful and the fans really like it and James Gunn likes it and we can continue exploring this universe, but this is all we know so far," Cecilia Hamilton says. "We hope there's a Season 5 where we can take them to new places and we can they can explore new areas in their relationship."
"This season really does a lot to flesh out the entire universe," adds co-producer Ian Hamilton. "By the end of the season, you don't know where they're going to go just because we fleshed out the Harley Quinn-specific DC universe so much over the course of this season. You really could go anywhere."
Harley Quinn Season 4 premieres Jul 27 on Max.