James Gunn's DCU Will Have Close Ties to This Year's DCEU Movies
The next 12 months will be full of new DCEU movies, and James Gunn's shiny new plans for the franchise isn't wiping them out.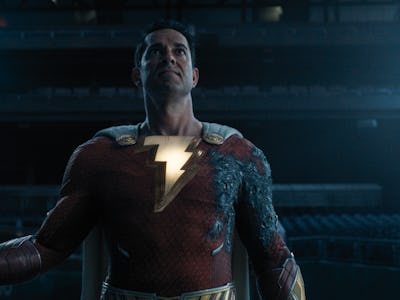 Warner Bros. Pictures
The DC Universe is entering a new era of gods and monsters.
Since November 2022, writer and director James Gunn and producer Peter Safran have overseen DC Studios, a new subdivision of Warner Bros. Discovery tasked with bringing DC's comic books to film, TV, and video games. DC Studios replaces DC Films, which until recently oversaw nearly all of DC's onscreen projects. On January 31, Gunn and Safran made the first wave of their grand plans known in what they call DC's "Chapter One: Gods and Monsters."
But "Chapter One" is a little deceptive. For years the DC has populated the big screen with the loosely-connected shared universe known as the DCEU. It began with 2013's Man of Steel, and later movies like Batman v Superman: Dawn of Justice, Suicide Squad, Wonder Woman, and Aquaman joined DC's universe.
In 2023 the DCEU plans to soldier forward with four movies:
Shazam! Fury of the Gods, a direct sequel to 2019's Shazam! (March 17, 2023)
The Flash, starring Ezra Miller as the title superhero in a story that's meant to somehow "reset" the DC continuity (June 16, 2023)
Blue Beetle, about a teenager who comes into contact with an alien scarab (August 18, 2023)
Aquaman and the Lost Kingdom, a direct sequel to 2018's Aquaman (December 25, 2023)
With a new era of DC on the horizon but still four more movies to go, will the DCEU continue? Yes and no.
In a video released on Tuesday, James Gunn said the four movies will still make their planned theatrical release dates and will segue into the new DCU. When describing The Flash, Gunn confirms the movie "resets the entire DC Universe" before "moving into" Blue Beetle. Aquaman and the Lost Kingdom is the last large-scale DC movie conceived and executed under the previous regime, but Gunn says the film "lead[s] directly" into Chapter One of his new continuity.
The specifics of how all of this will work are unclear, but the video marks Gunn's clearest statement about the future of DC. Fans can take some comfort in knowing the DCEU isn't going away, even if it won't look exactly the same. For what it's worth, one of Gunn's new projects, Paradise Lost — a political fantasy set in Wonder Woman's birthplace of Themyscira — will take place between the two Wonder Woman movies. While Gal Gadot's status as Wonder Woman remains uncertain, Gunn has said the star hasn't been "booted" from the role.
Gunn has also hinted that some DCEU actors may return to their roles. "There is nothing that prohibits that from happening," said Gunn (via The Hollywood Reporter).
DC's future isn't all rosy. Shazam! star Zachary Levi recently tweeted support of anti-vaccination conspiracies, while criminal investigations into Ezra Miller's recent behavior continue. Safran said Miller is "completely committed" to rehabilitation and voiced their support. "When the time is right, when they are ready to have that discussion, we will all figure out what's the best path forward. But right now, they are completely focused on their recovery. And in our conversation with them, in the last couple of months, it feels like they are making enormous progress."
Naturally, Gunn was resistant to explaining in granular detail how the soon-to-be-past era of DC will transition to DC's Chapter One, if there is a transition at all. But fans will find out for themselves, and maybe sooner than we realize; the movie that will reset everything is The Flash, and that's only 136 days away. Just like the Flash's ability, the new DC era is fast approaching.