Shazam! Fury of the Gods trailer pits the family against Helen Mirren and her dragon
Shazam! Fury of the Gods trailer offers a peek at Helen Mirren, Rachel Zegler, and Lucy Liu's badass characters.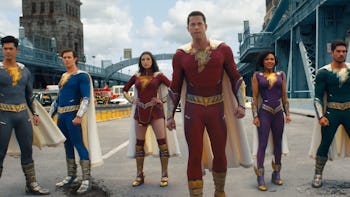 Shazam! Nearly four years after the titular supe's theatrical debut, and Philadelphia is under a supervillainous threat ... again. It's up to the City of Brotherly Love's protector, Shazam/Billy Batson (Zachary Levi and Asher Angel) to save the day— but this time around, he's got the backing of his foster Shazamily with extraordinary abilities that complement his impressive "power of the Six Gods."
On top of delivering a Khaleesi diss to a dragon, as well as new mythical set locations like the Realm of the Gods, the newest trailer for the Shazam! sequel, which flies to a big-screen near you on March 17, 2023, gives a closer look at Lucy Liu and Rachel Zegler as Kalypso and Anthea, respectively, alongside Helen Mirren's Hespera. Kalypso, Anthea, and Hespera comprise the three evil Daughters of Atlas who will force the world's "mightiest heroes" to get their crap together and figure out how to succeed in the caped crusader business (and be a functioning family of tweens, teens, and young adults, too).
The trailer also reveals harpies, manticores, and cyclopes, Fast & the Furious references, a mystical version of Athens, and much-needed upgrades to costumes and armor.
Joining Levi, Angel, and co. in Shazam! 2 are Jack Dylan Grazer and Adam Brody as Frederick "Freddy" Freeman, Meagan Good and Faithe Herman as Darla Dudley, D.J. Cotrona and Jovan Armand as Pedro Peña, Ross Butler and Ian Chen as Eugene Choi, and Grace Fulton as Mary Bromfield (since she's the eldest, Fulton will be portraying both versions of her character). Also reprising their Shazam! roles are Djimon Hounsou as Shazam, the wizard who bestows his powers on Billy Batson and designates him as his champion, consistently rooting for Billy in spite of Billy's own insecurities about his capacity to take on the Shazam mantle.
Although Dwayne "The Rock" Johnson's Black Adam character is both one of Shazam's most notorious canonical nemesis and also kind of related to him, he will not be making an appearance in Fury of the Gods, as Johnson reportedly turned down a cameo in the sequel.
Shazam 2! takes place about two years after the events of the first Shazam! flick. It's unclear whether or not the story will continue with James Gunn and Peter Safran slowly and surely gutting the DCEU as it currently exists, but Shazam!'s performance at the box office in 2019 could be an indicator of a similar triumphant outcome for Shazam! 2. If so, perhaps we'll get to see more of the Shazamily's kickass antics beyond this spring.
Shazam! Fury of the Gods is in theaters on March 17, 2023.