Black Adam trailer strangely omits Shazam! connections
In the DC Comics canon, Black Adam is the nemesis of Shazam who got his powers from the same source. But the trailer is strangely hiding that fact.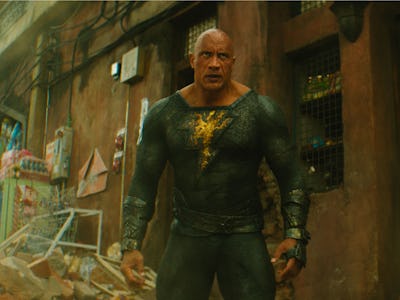 Warner Bros. Pictures
Dwayne Johnson has hyped Black Adam as a movie that will change the hierarchy of power in the DC Universe. But does The Rock know there's another hero with equally the same power source as his Black Adam? You wouldn't know it watching the trailer.
What Happened? — The trailer for Black Adam was released Wednesday, after several days of hype from Johnson on social media. This is the first full-length trailer for Black Adam after a preview last year during DC FanDome 2021. The movie is scheduled for release on October 21.
The trailer does what all trailers basically do: it introduces Johnson as Black Adam, an ancient slave who was reborn with godly superpowers. He is excavated in the modern-day by someone interesting, however: Doctor Fate (former James Bond star Pierce Brosnan).
The trailer also includes appearances from heroes like Hawkman (Aldis Hodge) and Atom Smasher (Noah Centineo), superheroes who make up the DC Extended Universe's version of the Justice Society of America.
"What have your powers ever given to you?" asks Doctor Fate. "Nothing but heartache."
Wisdom of Zehuti — What's interesting about the trailer for Black Adam — besides its many moments of Dwayne Johnson being frighteningly unstoppable — is that it totally glosses over one of the most fundamental things about Black Adam: He's the rival to Shazam (formerly Captain Marvel).
If you know comics, you know Black Adam — named Teth-Adam — was a slave in Kahndaq, a fictional North African society loosely inspired by Egypt. Like Shazam, Teth-Adam was chosen by the wizard Shazam to wield powers at the utterance of his name, turning him into "Mighty Adam."
Sort of like Shazam, who was given powers inspired by Greco-Roman deities, Adam was given powers inspired by Egyptian deities. (The "Stamina of Shu" and "Power of Aten" for example.)
But the difference between the two lies in who they are as people. Billy Batson is a teen orphan who only wanted a family. Adam, whose family was murdered, sought revenge. And Shazam eventually saw the terrifying reality of giving someone filled with bloodlust amazing powers.
The specifics of Black Adam's origins have changed over the decades since he first appeared in comics in 1945, but based on how the DCEU teases it, it appears Shazam tried to (and maybe successfully?) take back his powers from Teth-Adam. That's what we're led to believe from the original tease at Black Adam back in August 2020, which actually illustrated Djimon Hounsou's Shazam (from Shazam!) confronting Dwayne Johnson's Teth-Adam in concept art.
This may also explain why Johnson looks a little leaner than his usual hulking physique at the start of the Black Adam trailer when he's brought in by Doctor Fate: He finds Teth-Adam depowered. But how will Adam regain his powers? Well, that's something we'll find out watching the movie.
The Inverse Analysis — The trailer for Black Adam hiding the character's connections to Shazam! is no mistake. While Shazam! was a box office success to the point a sequel is on the way — Shazam! Fury of the Gods, scheduled for later this year in December 2022 — it's been DC's modus operandi of late to make each film in the DCEU stand independently.
With DC clearly unable to find the cohesiveness of the rival Marvel Cinematic Universe, the studio has more or less approached things from a "movie first" perspective, enabling its directors and writers to simply create. Even when things that do have clear connectivity, like The Suicide Squad and Peacemaker, it's the direct result of both being the work of writer/director James Gunn — not a producer-figure like Marvel's Kevin Feige. (Expect the same from Matt Reeves' soon-to-be sprawling The Batman-verse, or Todd Phillips' upcoming Joker sequel.)
Johnson has teased a confrontation between Black Adam and Shazam in the past, but it seems that Johnson wants to make sure audiences care enough about Black Adam first. And maybe they will — if Black Adam brings the thunder.
Black Adam will open in theaters on October 21.