Stephen King's It Gets an Intriguing Prequel Spinoff at HBO Max
We all float on, into the past.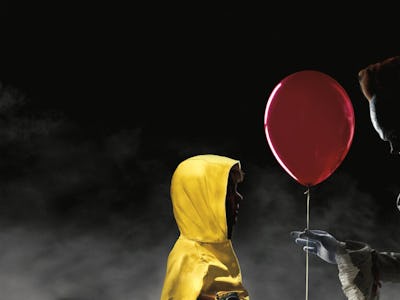 Netflix
Time to hide under the covers, coulrophobes: Pennywise the Dancing Clown is headed back to the screen to terrorize the unlucky denizens of Derry, Maine.
HBO Max has ordered an original drama with the working title Welcome to Derry from The Flash director Andrés Muschietti and his production partner and sister, Barbara Muschietti. Along with helming The Flash (2023), the pair were also behind It (2017) and It Chapter Two (2019). Welcome to Derry will be a direct prequel to those It revival films. Andrés Muschietti will direct multiple episodes, including the first one.
"As teenagers, we took turns reading chapters of Stephen King's It until the thick paperback fell to pieces. It is an epic story that contains multitudes, far beyond what we could explore in our It movies. We can't wait to share the depths of Steve's novel, in all its heart, humor, humanity and horror," the Muschietti's said in a statement released by Warner Bros. Television today.
Welcome to Derry is based on King's novel and expands upon the It double-feature. "This prequel will expand the It storytelling canvas and bring fans deeper into the terrifying, mesmerizing town of Derry," said Sarah Aubrey, head of original content at HBO Max.
Fans familiar with the films and their source material know that diving deeper into Derry and Pennywise's origins could mean one of several things. For example, Welcome to Derry could take place 27 years prior to the events of the first It movie — or 54 years, or 81 years, and so on — as Pennywise is a malevolent entity that pops out of his sewer on a strict schedule. It could also focus on the Deadlights, the destructive eldritch energy that projects the physical manifestation of Pennywise, along with other creepy avatars across many of King's books. And because HBO Max is labeling the series as a drama, Welcome to Derry could be less about the nightmarish Pennywise and more about why Derry is, as King frequently puts it, "Maine's most haunted (fictional) city."
"I'm glad Andy Muschietti is going to be overseeing the frightening festivities, along with a brain trust including his talented sister, Barbara. Red balloons all around," King said in the statement.
It's unclear whether any of the actors from It and It Chapter 2 will return to the franchise, including Bill Skarsgård, who portrays the murderous clown in both films.
Jason Fuchs (It Chapter Two, Wonder Woman) will write the teleplay for the first episode, based on a story by the Muschiettis and himself. Fuchs and Brad Caleb Kane — known best for providing the singing voice of Aladdin — will serve as co-showrunners and executive producers. The Muschiettis will executive produce through their Double Dream production company.
"To be able to return to the world of my all-time favorite horror novel and help build upon the singularly brilliant cinematic universe created by Andy and Barbara is more than the opportunity of a lifetime, it's a dream come true — or, maybe more appropriately, a nightmare," Fuchs said.
Welcome to Derry does not have a release date.