The Flash is Screening Early — Why That's A Good Sign for DC's Future
CinemaCon will get a look at DC's big film weeks before its theatrical release.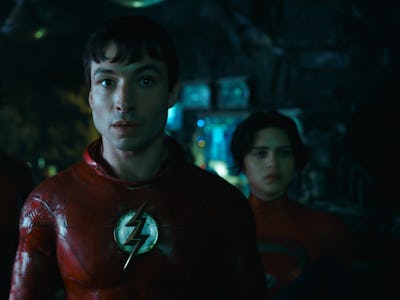 Warner Bros. Pictures
If you were worried that The Flash isn't going to blow your socks off, maybe DC's latest decision to screen the movie early will change your mind.
On February 23, Variety reported that DC and Warner Bros. are bringing The Flash, starring Ezra Miller, Ben Affleck, and Michael Keaton, to show in its entirety at CinemaCon, the annual convention for theater owners. The event will take place from April 24 to April 27 in Las Vegas.
The move is a big one that indicates strong faith in The Flash to do exceptionally well in theaters. As noted by Variety, Paramount did the same thing at last year's CinemaCon with Top Gun: Maverick. The Tom Cruise sequel was enthusiastically received at CinemaCon, and later wound up dominating theaters. DC clearly has similar hopes for its movie, regardless of the impending changes to the DC franchise and star Ezra Miller's ongoing public crises.
Variety reports The Flash will screen in the late afternoon on April 25.
The Flash is one of five movies DC will release in 2023, with four part of the DC canon. The first will be Shazam! Fury of the Gods, which opens March 17. The Flash will dash into theaters on June 16. After The Flash will be Blue Beetle (August 18) and Aquaman and the Lost Kingdom (December 25). The outlier, Joker: Folie à Deux, is a standalone movie designated under the alternate universe sub-brand "Elseworlds."
Casting a shadow over The Flash is Ezra Miller, who's been at the center of numerous legal issues. Miller is undergoing therapy and has the support of DC's higher-ups, James Gunn and Peter Safran.
"Ezra is completely committed to their recovery," Safran told the press on January 31, the day DC Studios unveiled its plans for the future. "And we are fully supportive of that journey that they're on right now."
Regardless of how The Flash performs, the DC Universe will not be the same after 2023. Under Gunn and Safran, it will feature a more tightly-connected continuity across films, TV, video games, and animation. Among the projects Gunn and Safran have announced are reboots of Batman and Superman, and shows like Creature Commandos.
The Flash's premise is loosely based on the DC Comics story Flashpoint, which hinges on the Flash rewriting history. The movie is primed to be a pivotal release for DC that might give it the fresh restart it wants, and needs, to move forward.
The Flash will open in theaters on June 16.