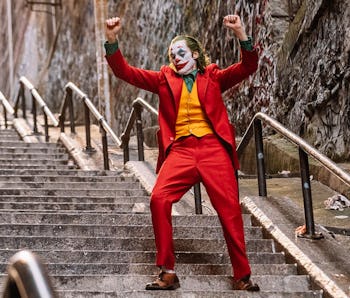 Mambo!
Joker 2 leak reveals the movie's surprising inspiration
When you're a Fleck, you're a Fleck all the way.
Joker caused a massive shift in the Batman universe, an already well-explored franchise that's seen takes from the goofy to the grim. Todd Phillips painted a haunting portrayal of Arthur Fleck's quest for fame and descent into madness that was tinged with nods to Scorsese films like The King of Comedy and Taxi Driver.
Where can the story go next? The answer, apparently, is a musical starring Lady Gaga as Harleen Quinzel, aka Harley Quinn. Now, thanks to a set leak, we finally know what on Earth that will look like.
According to Reddit user Slay_23, the working title for Joker: Folie à Deux is Juliet, building off the first movie's working title, Romeo. That suggests a Harley-focused adventure more than a straight sequel, which is intriguing in its own right, but the presentation of this title brings to mind another doomed love story.
The leaked production logo contains an image of a couple dancing, the man with his arm and leg extended, and the woman with her arm out. These figures are presumably meant to be Arthur and Harleen experiencing their folie à deux, or shared madness.
But this particular pose evokes another cultural mainstay: West Side Story. The classic musical, recently remade by Steven Spielberg, is, of course, based on Romeo and Juliet. Much like Joker's Scorsese inspirations, it's also a classic New York story. The logo for West Side Story shows a couple in a nearly identical pose, and the bold block letters are similar on both logos too.
We know Joker 2 will be a musical, but what kind of musical is a mystery. It could be something low-key like Cabaret, or high-octane like Hamilton. It could take after the classic Rodgers and Hammerstein style, or the more modern Pasek and Paul. This leak suggests the inspiration will be late Golden Age, the tipping point between the classic movie musicals of the '50s and '60s and the Sondheim stage musicals that dominated the decades that followed.
If West Side Story really is the inspiration for Joker 2, it will probably be a tragic love story. That would be a bummer, but let's be honest: a Joker love story can only start weird and end poorly. Just ask Harley in Birds of Prey.
Joker: Folie à Deux premieres in theaters October 4, 2024.