Pennywise the Dancing Clown Is Terrifying, But 'It' Is Hilarious
That's a good thing, as one of Stephen King's scariest novels is inherently one of his goofiest too.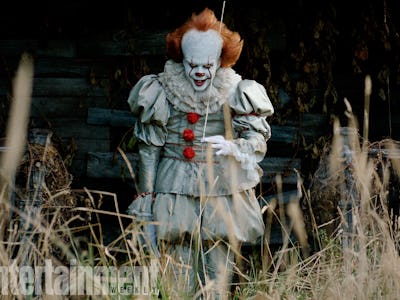 Warner Bros.
It usually takes the form of Pennywise the Dancing Clown, but It —the titular entity haunting the latest Stephen King adaptation — is really fear personified. The shape-shifting clown takes on the appearance of its prey's greatest phobia before feasting on them with a mouth filled with entirely too many teeth. It (the monster) is scary, no doubt, but It (the movie) is surprisingly, horrifyingly, fun.
Mild spoilers ahead for IT
Fans of Stephen King who are trying to sell It to their newbie friends could do worse than describe It as "R-rated Stranger Things," but of course that's not really fair. The novel (and charmingly corny 1990 miniseries) predate the Netflix smash, but the long-awaited film comes hot on the heels of the retro '80s horror craze. It and Stranger Things even share a cast member — Finn Wolfhard, whose wiseass Richie "Trashmouth" Tozier hilariously steals the show. The biggest similarity to between the new It and Stranger Things is how nice it is to immerse yourself in these kids' spooky world.
Wolfhard and his fellow child stars are a hoot to watch, as they head into their summer vacation in the troubled town of Derry, Maine. Their friendship, forged under pressure from both from bullies and abusive parents and a child-eating clown, feels good to watch. The self-described Losers' Club's kindship rightfully draws comparisons to another Stephen King classic, Stand By Me.
"It's summer," a couple of the characters repeatedly say as they're futilely trying to convince their friends not to hunt the immortal, flesh-eating fear-clown. "We should be outside having fun." But, watching the Losers figure out that there's a monster behind the wave of child disappearances plaguing Derry and banding together to take Pennywise down, makes for great end-of-summer viewing. The kids, especially Wolfhard's Richie and Jack Dylan Grazer's Eddie, fling jokes and insults at one another that are just as funny now as they are back when you were a kid and first learned about swears. A mini-love triangle between Beverly (Sophia Lillis), Bill (Jaeden Lieberher), and Ben (Jeremy Ray Taylor) is frequently played for laughs, and there's an amazingly '80s gag about New Kids on the Block.
Pennywise, played by Bill Skarsgård, lurks in an eerie valley between goofy and terrifying in the best sort of way. His stilted speech, unnatural movements, and bugged-out eyes that can't quite seem to point in the same direction make the monster hard to take seriously, but deeply unpleasant to take in at all. Director Andy Muschietti said he wanted his Pennywise to be bad at replicating human emotions, rather than Tim Curry's clown, who hammed it up in the '90s miniseries. The choice works. Skarsgård's Pennywise knows only how to illicit fear, and every other interaction he has with his prey is an uncanny facsimile of emotion. Because Pennywise is going after children's greatest fears, there are times when his approach is slightly childish and corny, but that's okay. It's more important that he's scary to these kids than he's scary to the audience. That's where the fun is.
At a smooth 2 hours and 15 minutes long, It is a lengthy movie, but the 1986 horror novel it's based on is infamously more than 1,100 pages long, and most paperback copies could be used as a bludgeoning weapon in a pinch. Still, It doesn't drag, in part because of the sheer amount of source material it's dealing with and deft pacing. The seven main character each get their big scare scene, and their swear-filled wisecracks keep Pennywise's ominous presence from feeling too suffocating.
The film only focuses on one half of the novel, leaving the Losers' Club's adult adventure for the sequel, but book fans should be pretty pleased with what made the cut. Aspects of Derry's horrible history are alluded to rather than explored, and some of Pennywise's more outlandish transformations are axed in favor of more tangible scares. The most glaring absence is the omission of the book's child orgy scene, news that should come as a relief to even the most loyal King fan.
Muschietti has already stated that the sequel, which is teased at the end of the flick with the reveal that this is just "Chapter 1," will focus on the adult Losers' Club and go into the novel's more outlandish ideas. That's fine, the first It installment is a surprisingly grounded tale about friendship (and also there's a spooky clown). Pennywise loses his power when people are no longer afraid of him, but It doesn't just rely on scares to be an enjoyable movie.
It floats into theaters on September 8.