House of the Dragon Season 2 Leak Reveals An Iconic Location — And a Change to Canon
Brace yourself, because we're deviating from the source material.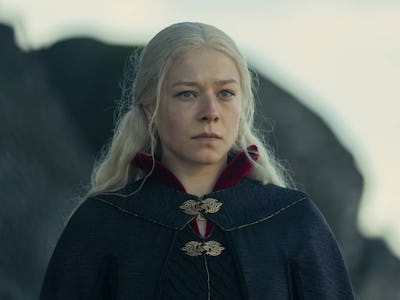 HBO
House of the Dragon is set over a century before Game of Thrones, but the two are closely connected. One of its storylines even centers on a dagger that appeared throughout Game of Thrones, from its use in an attempted murder of Bran Stark in Season 1 to Arya slaying the Night King in Season 8. Now, a set leak reveals another exciting connection between the two series.
YouTube channel UnBoxPHD recently released a drone flyover video of a British set for House of the Dragon. It includes a large white structure that appears to be the Wall, the massive barrier at the northern border of Westeros that served as Jon Snow's home for much of Game of Thrones.
It looks like some Targaryens will be trekking up North. That isn't a huge surprise, as Season 2 will feature Cregan Stark, which implies we'll see scenes set at Winterfell. Still, it's an exciting development. Although the Wall is over 8000 years old, it will be interesting to see what it looked like before the days of Game of Thrones.
While writers' and actors' strikes have brought American productions to a standstill, House of the Dragon's actors are working in a British union and continuing to film. From what we can see, it looks like Season 2 will explore a wider range of Westerosi locales than Season 1 did.
Game of Thrones wasn't afraid to use flashbacks, so maybe we'll dig even deeper into the Wall's past. At the very least, an appearance in House of the Dragon could shine more light on the history of this iconic structure, and how it's reduced to a skeleton crew by the time Game of Thrones rolls around.
Also of note is the fact that the Wall doesn't really play a role in House of the Dragon's source material, so its appearance suggests we're deviating from Martin's text. Whether the show is significantly rewriting the story or just deciding to set an important conversation in a cool location remains to be seen. In the books, Jacaerys Velaryon is sent North to secure Cregan Stark's support for his mother's claim to the throne, and the two soon become BFFs. Cregan becomes a key ally of Rhaenyra Targaryen, and it's possible all the bonding he does with Jacaerys will simply be shown in a variety of locations. Still, if a Stark is visiting the Wall, he probably has a good reason.
House of the Dragon is streaming on Max.