Guillermo del Toro Has Another Fantastical Stop-motion Movie in the Works
The Nobel Prize-winning Kazuo Ishiguro's The Buried Giant is getting the Pinocchio treatment.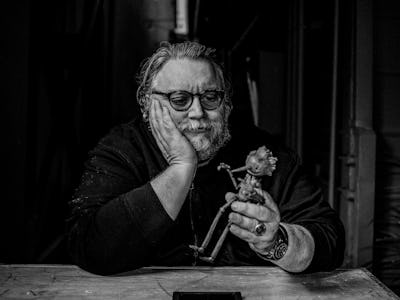 Mandrake The Black
After scoring a Best Animated Feature Oscar nomination for the stop-motion masterpiece Pinocchio, Guillermo del Toro will continue to breathe new life into the beleaguered animation industry with another dark fairytale.
Del Toro will adapt Kazuo Ishiguro's fantasy novel The Buried Giant. The story follows an elderly Briton couple, who live in a fictional post-Arthurian England where no one can retain long-term memories, as they journey to find a son they think they may have had. Del Toro will reunite with Netflix and ShadowMachine's stop motion studio to produce and direct. He is co-writing the script with Dennis Kelly, who penned Netflix's Matilda the Musical.
"Guillermo del Toro is a visionary filmmaker and master of his craft," Scott Stuber said in a statement to Deadline. "We couldn't be more proud of the prestigious recognition for his Pinocchio, and we're pleased to continue our creative partnership as he develops his next project with Netflix."
"The Buried Giant continues my animation partnership with Netflix and our pursuit of stop-motion as a medium to tell complex stories and build limitless worlds," Del Toro added. "It is a great honor and greater responsibility for me to direct this screenplay which Dennis Kelly and I are adapting from Kazuo Ishiguro's profound and imaginative novel."
It's unclear how far along The Buried Giant is in development, but Pinocchio took about 1,000 days to execute, so Del Toro fans may need to sit tight.
On the plus side, The Buried Giant could be a perfect marriage between the book's themes and Del Toro's creative chops. Ishiguro's novel features ogres, warriors, and baby dragons, all of which will fit Del Toro's aesthetic whimsy; Ishiguro's novel is also achingly tragic, which will favor Del Toro's more morose narrative sensibilities. And, like many of Del Toro's finest films (Pinocchio, Pan's Labyrinth, The Devil's Backbone, to name a few), the novel touches on the prickly parts of parenthood.
Guillermo del Toro's Pinocchio has broken barriers in the animation industry. Stop-motion, while beautiful, has long been considered too time-consuming and bank-busting for studios desperate for speedy releases. But Pinocchio's bounty of positive press, followed by its top rank on Netflix's global film standings for a month, its numerous accolades this awards season, and even a multi-floor MoMa exhibit dedicated to Pinocchio's craft and development, has companies thinking twice about rejecting stop-motion projects.
In an interview with IndieWire this past December, Del Toro announced that he is diverting his creative energies towards animation, and even possibly remaking some of his movies in animation:
"If you go back to the birth of animation, whether it's the trickery of Méliès or Russian animation, it was birthed as an art medium... When it started to make a lot of money with repeat audiences that included kids in America, it became geared toward a more pasteurized, homogenized idea. That deprives not only the makers but audiences and studios from exploring its possibilities as spectacle, drama, as a profoundly human experience."
His other stop-motion passion project? Adapting H.P. Lovecraft's novella At the Mountains of Madness, as part of his new multi-year overall deal with Netflix. While it hasn't been greenlit for development yet, Netflix's continued faith in Del Toro's animation dreams could turn more of them into realities.