Godzilla vs. Kong release date, trailer, and cast for the big monster brawl
The MonsterVerse's next big showdown is here. Here's everything to know.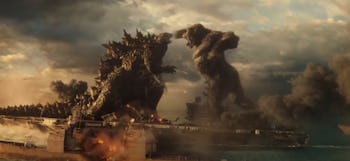 This article about the film Godzilla vs. Kong was originally published on June 2, 2019 and updated on January 9, 2022 following the movie's release. Read on for the original article, with some new changes to reflect the latest updates on this topic.
In 2019, Godzilla: King of the Monsters introduced fans to a world full of kaiju. But in 2021, everyone's favorite overgrown lizard took on his toughest challenger yet. That's right, the epic showdown we've been waiting for since 2015 is here. It's time for Godzilla vs. Kong.
After multiple pandemic-related delays, Godzilla vs. Kong was finally released. Here's everything you need to know, from the trailer footage to the cast.
When was the Godzilla vs. Kong HBO MAX release date?
After a series of delays caused by the coronavirus shutdown, Godzilla vs. Kong premiered on Friday, March 26, 2021. Like all other Warner Bros. movies throughout 2021 and late 2020, it simultaneously debuted in both theaters and on HBO Max.
Is there a Godzilla vs. Kong trailer?
Yes! You can check out the official trailer for Godzilla vs. Kong, which has amassed more than 100 million views on YouTube, below:
Who's in the Godzilla vs. Kong cast?
Millie Bobby Brown and Kyle Chandler reprised their King of the Monsters roles as Madison Russell and her father, Mark.
Beyond that, the new MonsterVerse movie added a bunch of talent, including Alexander Skarsgård, Lance Reddick (John Wick), Eiza González (Alita: Battle Angel), Rebecca Hall, Shun Oguri, Jessica Henwick (Iron Fist), Brian Tyree Henry (Eternals), and Julian Dennison (Deadpool 2).
Where can you buy Godzilla vs. Kong Funko Pops and other toys?
In early 2021, Funko revealed its new vinyl figures for Godzilla and King Kong. Here they are in all their 10-inch glory, courtesy of Bleeding Cool:
Who wrote and directed Godzilla vs. Kong?
King of the Monsters director and co-writer Michael Dougherty also co-wrote this movie along with Terry Rossio and Zack Shields. It was directed by Adam Wingard, best known for suspenseful horror films like You're Next.
How did Godzilla: King of the Monsters set up Godzilla vs. Kong?
King Kong never shows up in the latest Godzilla movie, but his presence is definitely felt. The credits, which feature a series of fictional headlines from the MonsterVerse, even tease his arrival from Skull Island while also setting up a world where humans and kaiju coexist thanks to the benevolence of Godzilla.
Does Godzilla vs. Kong have a post-credits scene?
Unlike what we saw in Godzilla: King of the Monsters, there was no post-credits scene in Godzilla vs. Kong.
What did critics have to say about Godzilla vs. Kong?
Godzilla vs. Kong has a 75% rating on Rotten Tomatoes and a score of 59 on Metacritic. The reviews were positive, with particular praise reserved for the monster fights.
Will there be a sequel to Godzilla vs. Kong?
Producers and Legendary Studios alike had been very upfront going into Godzilla vs. Kong that this was going to be the culmination of their MonsterVerse films up to this point. So understandably, after the film was released, the studio found itself as a "crossroads," according to director Adam Wingard. For what it's worth, in August 2021, writer Max Borenstein teased "there will be some new, interesting installments coming" in the MonsterVerse.
Godzilla vs. Kong arrived in theaters and HBO Max on March 26, 2021.
This article was originally published on