All the Godzilla Movies Are Streaming For Free. Here's How to Watch.
Let them fight... for your attention.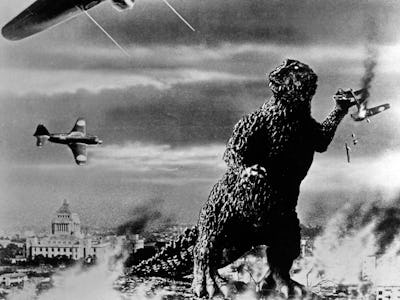 United Archives/Hulton Archive/Getty Images
The king of the monsters is taking over streaming. Pluto TV has launched a new 24/7 Godzilla channel, which is exactly what it sounds like: but Godzilla movies playing on an endless loop.
The free ad-supported streaming television service (or FAST, for short) announced the launch of the Godzilla channel Wednesday, teasing 24 hours of classic Godzilla films and series, as well as some new Pluto TV exclusives. The channel will join Pluto TV's other dedicated channels, which feature properties like The Walking Dead, I Love Lucy, Doctor Who, Star Trek, Baywatch, CSI, Jeopardy!, and Mystery Science Theater 3000.
In its official announcement, Pluto TV declared:
"The King of the Monsters has made landfall on Pluto TV! Emerging in 1954, Godzilla has become a global icon and symbol that has transcended time and pop culture. After debuting as a terror that descended upon Tokyo, Godzilla has fought numerous foes and gained new allies over several distinct eras. While most Godzilla films stand alone in their zeitgeist, the evolution of Godzilla followed advancements and film and technology along with cultural trends, yet always staying rooted in the origins from 1954. Now, fans can celebrate one of the world's most famous entertainment characters with the Godzilla channel collection and experience their favorite movie moments from the never-ending clash between kaiju and humankind."
Here are the movies set to air on the channel:
1954 GODZILLA (GOJIRA)
1955 GODZILLA RAIDS AGAIN
1956 GODZILLA: KING OF THE MONSTERS
1961 MOTHRA
1964 GHIDORAH, THE THREE-HEADED MONSTER
1964 MOTHRA VS. GODZILLA
1965 INVASION OF ASTRO-MONSTER
1966 EBIRAH, HORROR OF THE DEEP (GODZILLA VS. THE SEA MONSTER)
1967 SON OF GODZILLA
1968 DESTROY ALL MONSTERS
*1969 ALL MONSTERS ATTACK (GODZILLA'S REVENGE)
1971 GODZILLA VS. HEDORAH
1972 GODZILLA VS. GIGAN
1973 GODZILLA VS. MEGALON
1974 GODZILLA VS. MECHAGODZILLA
1975 TERROR OF MECHAGODZILLA
1984/1985 THE RETURN OF GODZILLA / GODZILLA 1985
1989 GODZILLA VS. BIOLLANTE
1991 GODZILLA VS. KING GHIDORAH
1992 GODZILLA VS. MOTHRA
1993 GODZILLA VS. MECHAGODZILLA 2
1994 GODZILLA VS. SPACEGODZILLA
1995 GODZILLA VS. DESTOROYAH
1996 REBIRTH OF MOTHRA
1997 REBIRTH OF MOTHRA 2
1998 REBIRTH OF MOTHRA 3
1998-2000 GODZILLA: THE SERIES
1998 GODZILLA
1999 GODZILLA 2000
2000 GODZILLA vs MEGAGUIRUS
2001 GODZILLA, MOTHRA AND KING GHIDORAH GIANT MONSTER ALL-OUT ATTACK
2002 GODZILLA AGAINST MECHAGODZILLA
2003 GODZILLA: TOKYO SOS
2004 GODZILLA FINAL WARS
Notably missing from the list are movies from the franchise's more recent Reiwa era (2016-present), like the critically acclaimed (and arguably, all-time best) Shin Godzilla. But it's still an impressive collection of classics, with even the obscure animated '90s series Godzilla: The Series, popping up on the list. And Pluto TV will also be developing its own exclusive titles as well.
While FAST streaming services have their drawbacks — specifically, in the way residuals don't make their way to creatives or talent — they've unexpectedly become the last defense when it comes to preserving digital media. With platforms like Max and Disney+ purging originals from their services without any plan of a physical or digital release, FAST streaming services have stepped in. Shows like Westworld have found new homes on FAST streaming services, while platforms like Pluto TV are keeping the syndicated spirit alive with their dedicated channels to shows like I Love Lucy and Baywatch.
It was hard enough for the average Godzilla fan to find all the classic kaiju movies in one place before the streaming era, but now that the streaming bubble is popping, it seems like FAST is the place to go to find old classics.
Let the streamers fight — we have 24 hours of Godzilla on Pluto TV.