Fall of the House of Usher Trailer: Netflix Takes on the Best HBO Show of the Decade
Mike Flanagan's latest literary love letter bears more than a passing resemblance to one of the most acclaimed TV shows ever.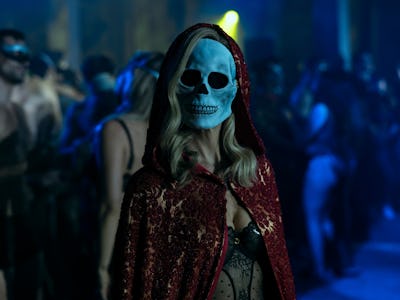 Netflix
Mike Flanagan loves a good source material. Though he's done original stories like Midnight Mass, the "Flana-verse" of Netflix series like The Haunting of Hill House, The Haunting of Bly Manor, and The Midnight Club were all based on existing works of literature.
Now, with his latest series, The Fall of the House of Usher, Flanagan is taking on the patron saint of horror writing: Edgar Allan Poe. But in modernizing it, it's putting its spin on one of the greatest TV series of the 2020s and adding a horrific twist. Check out the new trailer for the series below.
The series follows "ruthless siblings Roderick and Madeline Usher," who "have built Fortunato Pharmaceuticals into an empire of wealth, privilege and power. But past secrets come to light when the heirs to the Usher dynasty start dying at the hands of a mysterious woman from their youth."
An "empire of wealth, privilege, and power" makes itself very clear in the trailer, as the Usher family, dotted with the star-studded cast full of Flanagan favorites, play off each other with all the snark and cattiness of Succession's Roys.
Flanagan's monologue-heavy dialogue style is perfectly suited to juxtapose with the rapid-fire rapport of Succession, and the backstabbing industry drama blends seamlessly with the eerie horror twist that makes his works — and the works of Edgar Allan Poe before him — so gripping.
Flanagan has taken on many different genres over his tenure: Midnight Mass is his religious drama, Hill House is his family saga, Midnight Club is his young adult story. With House of Usher, it looks like the genre that's being approached is the ultra-modern, ultra-fast-paced corporate family drama.
The trailer features Flanagan mainstays including Kate Siegel, Alex Essoe, Carla Gugino, and Rahul Kohli, relatively new faces to the franchise including Ruth Codd, Sauriyan Sapkota, and Igby Rigney, and huge names like Mark Hamill and Carl Lumbly.
With that packed of a cast and two different proven formulas — a Succession-alike drama and a Flanaverse horror — this series is sure to deliver on every level.
The Fall of the House of Usher premieres on Netflix October 12.