Doctor Who Has a Disney+ Release Date — But There's a Disappointing Catch
You'll have to travel services if you want to travel through time.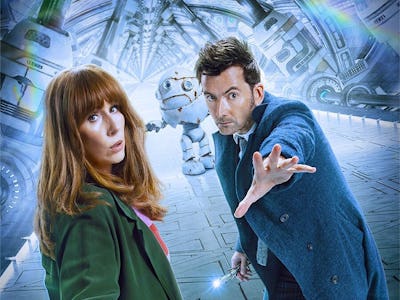 BBC
Doctor Who, the longest-running sci-fi series in the world, is gearing up to celebrate its 60th anniversary. After the 13th Doctor regenerated into David Tennant (aka the 10th Doctor,) the hype was already built for the three upcoming specials, and with the new announcement of an official release date, the celebration is starting to seem a lot more real.
The anniversary specials will premiere on Disney+ in America this November, but if you want to go back and study up on the Doctor past, like David Tennant's first tenure as the time-traveling Gallifreyan, you'll have to look elsewhere.
Where is Doctor Who streaming?
While the new specials will premiere on Disney+, the new home of the franchise, it will only feature the new episodes. Inverse confirmed with Disney that Disney+ will be the home of Doctor Who starting from the specials and beyond, so you won't see any of Seasons 1-13 there.
If you want to watch "New Who," the series starting from Season 1 in 2005 all the way up to the last episode that was produced, it's all available to stream on Max. However, even this isn't the complete run of the show. "Classic Who," the 800-plus episodes that date all the way back to 1963, are available on BritBox.
This show has three distinct streamers for three distinct eras. It may be confusing, but that's just part of the Doctor Who experience — things are just confusing enough to be interesting.
When are the Doctor Who 60th Anniversary Specials' release dates?
After a long summer agonizing over when we'll see the three new specials, "The Star Beast," "Wild Blue Yonder" and "The Giggle," we officially have release dates. "The Star Beast" will premiere Saturday, November 25, two days after the official 60th anniversary, November 23. The second and third specials will air over the next two Saturdays: December 2 and December 9.
There's still one looming question about these releases: will they premiere on Disney+ simultaneously with the U.K. release, meaning it would premiere in the afternoon in the U.S., or will American fans need to wait a couple more hours?
Is there a trailer for the Doctor Who 60th Anniversary Specials?
Yes! Ahead of the release, you can watch our first glimpse of the new specials in this trailer, starring David Tennant as the 14th Doctor, Catherine Tate reprising her role as Donna Noble, and Yasmin Finney as Donna's daughter Rose. The trailer also offers a greater glimpse at Neil Patrick Harris' mysterious villain, the Toymaker.
Doctor Who is now streaming on BritBox, Max, and (soon) Disney+. The Doctor Who 60th anniversary specials will begin airing on BBC and Disney+ starting November 25.